'Voice of Broadway' Betty Buckley to perform at Mercyhurst
Wednesday, July 21, 2021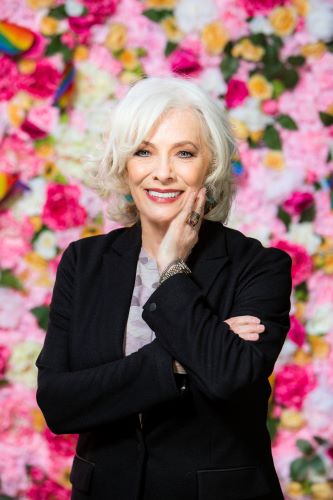 Legendary actress/singer Betty Buckley, whose career spans theatre, film, television, and concert halls around the world, will headline the Mercyhurst Institute for Arts & Culture's annual 501 Summer Soirée on Saturday, August 7, at 7:30 p.m. in the Mary D'Angelo Performing Arts Center.
Dubbed "The Voice of Broadway," Buckley helped to revolutionize modern musical theatre through her acclaimed performances in 1776 (Martha Jefferson), Pippin (Catherine), The Mystery of Edwin Drood (Alice Nutting/Edwin Drood), Carrie (Margaret White), and Cats (Grizabella, the Glamour Cat), which earned her the Tony Award for Best Featured Actress in a Musical. She received her second Tony nomination for Best Actress in a Musical for her performance as Hesione in Triumph of Love and received an Olivier Award nomination for her critically acclaimed interpretation of Norma Desmond in the London production of Andrew Lloyd Webber's Sunset Boulevard, which she repeated to more rave reviews on Broadway.
Her other theatre roles have included Rose in Gypsy, Fran Kubelik in Promises, Promises (Evening Standard Award nomination), Countess Aurelia in Dear World, Gertrude Hayhurst Sylvester Ratliff in The Old Friends (Drama Desk nomination), and Big Edie in Grey Gardens (Ovation Award nomination). Most recently, she headlined the national tour of the new Broadway production of Hello, Dolly!
Buckley's film roles include her debut in Brian de Palma's screen version of Stephen King's Carrie, Bruce Beresford's Tender Mercies, Roman Polanski's Frantic, Woody Allen's Another Woman, Lawrence Kasden's Wyatt Earp, and M. Night Shyamalan's The Happening. Most recently, she co-starred with James McAvoy in the M. Night Shyamalan film Split, earning a Saturn Award nomination for Best Featured Actress for her work in the film.
On television, she played everyone's favorite stepmother, Abby Bradford, in the drama series Eight is Enough and received Daytime Emmy Award nominations for her work in both Bobby and Sarah and Taking a Stand. She co-starred in the third season of AMC's hit series Preacher and guest starred in the CW hit Supergirl, the NBC series Chicago Med, and the HBO series The Leftovers and Getting On.
Buckley tours in concert worldwide with her ensemble of musicians and in 2015 was featured in the Royal Albert Hall concert of Follies in celebration of Stephen Sondheim's 85th birthday.
She has recorded 18 albums, including Ghostlight, produced by T Bone Burnett, and Story Songs. Her latest album, Hope, was released in June 2018. She received Grammy nominations for Stars and the Moon, Betty Buckley Live at The Donmar, and for the audio book The Diaries of Adam and Eve.
Buckley is a 2012 Theatre Hall of Fame inductee and the 2017 recipient of the Julie Harris Award for Artistic Achievement from The Actors Fund.
Tickets for her August 7th concert at Mercyhurst University are $35 for adults, $30 for seniors, and $25 for non-Mercyhurst students and youth 12 and younger.
Tickets can be purchased via the MIAC Ticketing website or by calling the box office at 814-824-3000 (Tuesday-Thursday, 12-5 p.m.). Each order is subject to a $3 per ticket processing fee, regardless of purchase or payment method.
Seating has been reduced to 50% capacity for this performance. Individuals who are fully vaccinated against COVID-19 are encouraged but not required to wear face masks. Patrons who are not fully vaccinated against COVID-19 are required to wear face masks in all indoor and outdoor campus spaces. PLEASE NOTE: The protocols currently in place are subject to change in compliance with revisions to national and local guidelines regarding COVID-19.