U.S. Sen. Casey to meet with intel students on national security topics
Thursday, September 26, 2019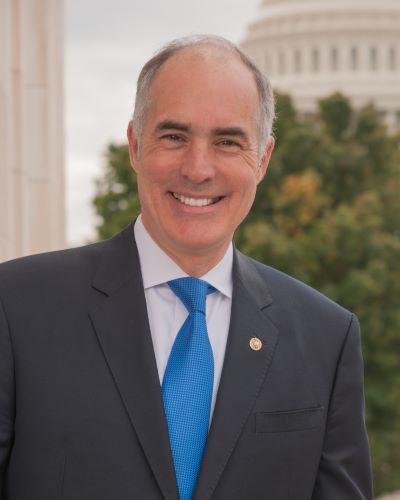 U.S. Senator Robert "Bob" Casey Jr. will speak to a group of Intelligence Studies majors at Mercyhurst University on Tuesday, Oct. 1, at 8 a.m. in the Center for Academic Engagement, Room 300. The senator will speak specifically about terrorism and weapons of mass destruction and what he needs from the intelligence community to make informed decisions.
"This is a remarkable opportunity for our students, who are being educated to analyze data and inform decision-makers like Sen. Casey on vital issues affecting the national security of our nation," said Duncan McGill, dean of the Ridge College of Intelligence Studies and Applied Sciences. 
Casey is co-chair of the Weapons of Mass Destruction Terrorism Caucus. The caucus is composed of senators who recognize the urgency and depth of the threat posed to the United States and its citizens by acts of nuclear, biological, and chemical terrorism and who work with leading experts to gain a better understanding of policy proposals to prevent, prepare for, mitigate, and respond to acts of WMD terrorism.
He is also an appointee to the National Security Working Group (NSWG). This bipartisan group was established in 1985 as a forum for members of the Senate to discuss arms control issues and observe arms control negotiations. It conducts oversight on the Executive Branch as it deliberates on treaty negotiations, pursues action through multilateral forums, and engages with foreign partners on critical national security priorities including arms control, missile defense, terrorism, and cyber security. The NSWG has played an important role in the negotiation of every major nuclear treaty since 1985.
Outside of the national security realm, Casey is a strong advocate for policies that improve the health care and early learning of children and policies that will raise wages for the middle class. He serves on four committees including the Senate Finance Committee and Senate HELP Committee. He is also the highest-ranking Democrat on the Special Committee on Aging. 
Casey was first elected to the U.S. Senate in 2006. He previously served as Pennsylvania Auditor General from 1997 to 2005 and as Pennsylvania Treasurer from 2005 to 2007. Casey and his wife Terese live in Scranton and have four adult daughters.
For more information, contact Orlandrew Danzell, chair of the Intelligence Studies Department, at odanzell@mercyhurst.edu.