Upgraded union urges students to 'come on in and sit a spell'
Tuesday, November 16, 2021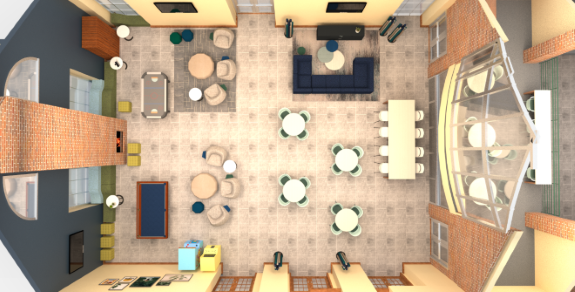 We have something called "The Mercyhurst Experience" and it is described in different ways, from our mission-driven culture to the sheer beauty of our campus.
Part of that experience is in the amenities students seek, and high on that list is a student union that beckons everyone to come on in and sit a spell. For years, the Great Room of the union – albeit attractive – has just missed the mark, said MSG President Nick Brodfuehrer. For starters, there's an echo, which makes it hard to hear conversations; the lighting is insufficient; and the furniture is neither comfortable nor functional.
That is about to change. With $120,000 in student activity fees that typically support SpringFest and other student events, which were cancelled last year due to COVID-19, $114,000 has been earmarked for a Great Room makeover, Brodfuehrer said.
"At our MSG retreat last year, we talked about how we could make the student union more appealing," he said. "There's nothing about it that calls people in." 
After much discussion, the result is a design reminiscent of a modern lodge – cozy but with contemporary lines. New furniture was chosen with an eye toward comfort and softness to help absorb the echo. Sofas and chairs will be arranged in conversational seating pods while the room will also be scattered with round tables to stimulate interaction and collaboration. Board games will be abundant.  
Work is expected to begin in December and continue over winter break. A grand reveal is planned for Jan. 20, 2022, at 4 p.m., said Steph Przepiora, director of Campus Involvement, who is helping to oversee the project. Student fees are covering most of the redesign, but the university has committed to upgrading the lighting, she noted.
Meanwhile, the upgrades are not confined to the Great Room. The upper lounge area across from Prince of Peace Chapel will be outfitted with new furniture. Further, Campus Ministry is financing new chairs in the chapel, while the university and MSG are sharing the cost of new tables with white boards in MSG Chambers. 
"We want this to be a hustling, bustling place," said Brodfuehrer. "It may not be in time for today's upperclassmen, but we're hoping to get the freshmen here and keep them coming back."
PHOTO: Rendering of new Great Room design