University offers tips to help students manage COVID-related stress
Thursday, December 10, 2020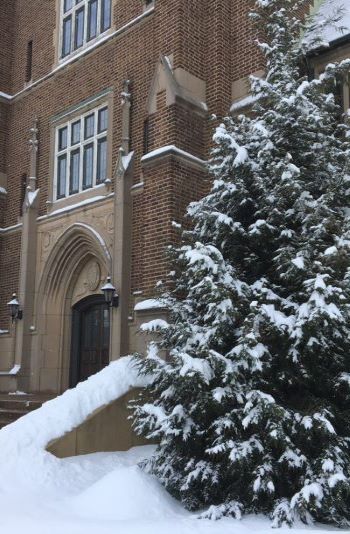 For most college students, being home for the holidays is a time to reconnect with family, visit friends, go to parties, shop for gifts … and yet the pandemic has taken a bite out of those traditions just as it has the college experience.
"As Lakers," says Pandemic Officer Dr. Laura Zirkle, "we have risen to the occasion time and again, making the best of this unprecedented situation with hope in our hearts that the end is near and life can return to normal."
Still, "The mental health component of COVID is starting to come like a tsunami," according to California-based psychiatrist and author Dr. Jennifer Love. Nationwide, surveys have found increasing rates of stress, depression, and anxiety during the pandemic.
Recognizing this, the university's COVID-19 Team in tandem with the Mercyhurst Counseling Center is encouraging students to find ways of minimizing stress during the semester break.
Everyone handles stress differently, says Mercyhurst Executive Director of Wellness Dr. Judy Smith. To help students better cope, Mercyhurst's licensed professional therapist Jessica Macrino created and collected a host of resources. She was assisted by fellow therapist Linda Graves, and by Sue Sweeney, assistant director of athletics and health care administrator.
While geared toward students, everyone can potentially benefit. Meanwhile, all the resources can be found on the Student Hub. (Sign on the Student Hub, click on Services at the top, then Counseling Center, then Resources in Time of Need.)
As a starting point, here are some tips to consider: 
Keep a Routine but Be Flexible: Sleeping in and staying up late is to be expected during your semester break. Realize, though, that getting up and going to bed around the same time each day is good for your physical and mental wellbeing. Try creating a simple wind-down and wake-up routine but be flexible. 
Move Your Body Everyday: The local gym may not be accessible, so think brisk walk, snowball fight, or even dancing around your bedroom. Physical activity is good for your mind, body, and spirit and will help break up the day. Be creative and have fun with it. 
Enjoy Your Food: This is a time when baking cookies and devouring rich, heavy meals is common. Do enjoy but be mindful when eating. Savor the textures, smells, and colors from each bite. This will help you slow down and appreciate your food even more. It might also create awareness of your body's signals that you have had enough. And even if you are not hungry, remember that eating fuels your body each day and is essential regardless of your physical activity. 
Balance Togetherness: Although being home with your family can be great, the constant togetherness can also be overwhelming. Remember, it is okay to carve out some "me time." This may be as simple as a walk around the block.  
Keep in Touch: FaceTime and Zoom calls to friends and family can make life more bearable when you are unable to be physically close. You might also try sending a card or letter in the mail. Despite our reliance on email, people still love receiving get good, old-fashioned snail mail.  
Laugh: Sometimes laughter is the best medicine. Take time to laugh every day. Find the humor in life and laugh at yourself, too. If you cannot find anything to laugh about, try resting a gentle smile across your face. The act of smiling activates neural messaging that benefits your health and happiness. 
Practice Gratitude: Practice gratitude by identifying three things that you are grateful for each day. Say them out loud or write them down. Take the practice a step further and let someone else know how grateful you are for them. Open a door, pay for the next person's coffee, donate to a charity, or write a letter of thanks. 
Start Something New: This is a great time to try something new, create a different routine, or find a hobby. Whether it is baking, hiking, crocheting, reading a book, mastering the guitar, or raising plants, set forth on a new adventure. You stand to gain a sense of accomplishment and confidence,
Take Time to Reflect: A break from the responsibilities of school can lend itself well to reflecting on all you've accomplished, areas you'd still like to grow in, and hopes and dreams for the future. Keep a journal or just set time aside to access your thoughts. 
Breathe: Do not forget mindful breathing. Use your breath to anchor you in the moment whether through formal breathing and meditative exercise or simply to notice the air that keeps you going. Sigh and feel the relaxation, if only for just a minute. Then repeat, repeat, repeat.