University announces events in observance of Veterans Day
Tuesday, November 09, 2021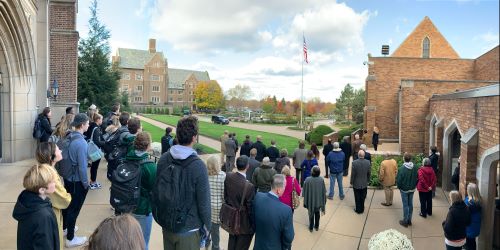 In what has become a striking show of honor and respect for America's veterans, flags line Old Main Drive this week at Mercyhurst University as the campus commences its annual observance of Veterans Day.
Under the direction of Veterans Services Coordinator Chris Constantine, the university will host the following events:
Periodic bugle calls will sound over the carillon between classes. In the military, these bugle calls convey specific messages throughout the day.
On Thursday, Nov. 11 (Veterans Day), the day will begin with Reveille (flag raising), at 7:45 a.m. Members of the campus community are encouraged to join the Army ROTC cadets as they ceremoniously raise the flag directly in front of Old Main.
At 3 p.m. on Nov. 11, the university hosts the annual "Celebration of Valor" in Mercyhurst Heritage Room with local music group "Music for Veterans" singing patriotic songs. The ceremony itself will begin at 3:30 p.m. with a welcome from Mercyhurst President Kathleen A. Getz, Ph.D. Robert Hill, Purple Heart Recipient and Commander of the Erie Chapter of the Military Order of the Purple Heart, is the guest speaker. Refreshments will be served directly following the ceremony.
At 4:57 p.m. on Nov. 11, the day will end with Retreat (flag lowering) in front of Old Main.
Throughout the week, university students/faculty/staff who are veterans are encouraged to wear their issued "dog tags" to signify their proud service to our country.
FILE PHOTO: 2019 Reveille to open Veterans Day observance