United Way, Mercyhurst name new community school director at Diehl
Friday, June 07, 2019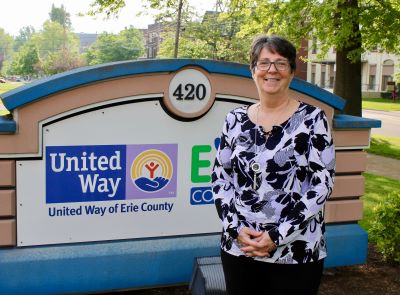 Karen Donnelly, former academic success coach at Mercyhurst North East, has been chosen as the community school director at Diehl Elementary School, according to an announcement today by the United Way of Erie County in affiliation with lead partner Mercyhurst University.
Donnelly is a Rhode Island native who has lived in Erie for the past 30 years. She said she is excited to join the team at Diehl because she is passionate about working with children and sees this new role as bringing her career full circle. "This job is a culmination of all of the skills developed throughout my career," Donnelly said. 
In her position as community school director, Donnelly works closely with the principal and Community School Leadership Team, which includes lead partner Mercyhurst University and Diehl corporate partners: Accudyn, American Tinning and Galvanizing, Custom Engineering, Lincoln Recycling, McInnes Rolled Rings, Reddog Industries, Smith Provision and Team Hardinger. She leads ongoing needs and resource assessment, developing the action plan that guides all activities in the school, sets priorities and tracks outcomes.
"We're excited to welcome Karen Donnelly to this strong group in the her new role as the community school director," said Dr. Christina Riley Brown, dean, Hafenmaier College of Humanities, Arts, and Social Sciences. "Karen has been a member of the Mercyhurst University community for many years, and she has a demonstrated commitment to carrying forward the mission of the university."
The Mercyhurst team that worked toward the Diehl partnership includes Education Department Chair Dr. Susan Johnson, Carpe Diem Academy Director Amy Bauschard and Community Engagement Director Colin Hurley. 
United Way community schools are intended to level the playing field for students and families facing barriers to success. There are 10 United Way community schools serving more than 6,000 students in three Erie County School Districts: Erie's Public Schools, Girard School District and the Iroquois School District.