Transferable skills put dance alumna in nursing post on front lines of COVID-19
Tuesday, April 14, 2020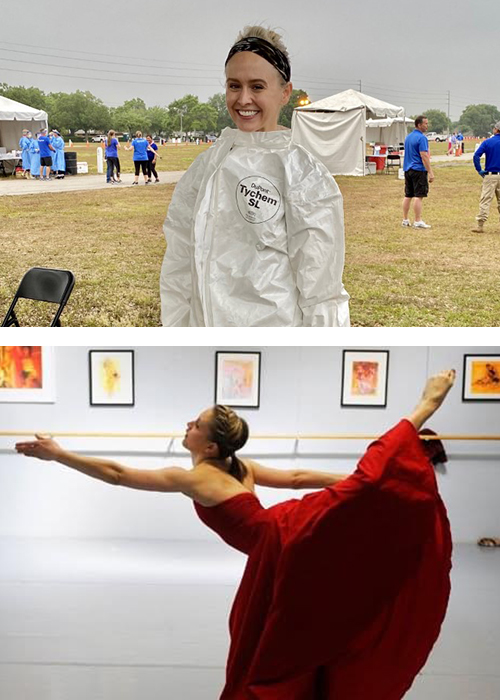 Mercyhurst dance alumna Noelle Lelakus never expected to dance her way into a nursing career, but that's exactly what she did. Further, she's delivering the performance of a lifetime on the front lines of the COVID-19 pandemic.
The surgical liaison nurse practitioner at AdventHealth Carrollwood is part of the team testing residents for the coronavirus at Raymond James Stadium in Tampa Bay, Florida.
When she was asked to serve in that capacity, she said it felt like duty calling. "In nursing, one must consider caring for not only individual patients, but populations of patients, entire communities," she said.
A 2008 summa cum laude graduate from North Canton, Ohio, Lelakus danced professionally for the Missouri Contemporary Ballet in Columbia for two years before an old ankle injury forced her to consider a career transition.
"In my family, there is a strong tradition of nursing, which my mother suggested I explore because I enjoyed volunteering in the hospital during high school," she said. "When I saw Mercyhurst had a nursing program at the North East campus and the coursework from my B.A. would be counted, it was an easy decision to apply and move back to Erie."
While at Mercyhurst, she earned her ASN in 2012 and BSN in 2014. In 2017, she received her master's in nursing from Duquesne University.
Being equipped with the transferable skills she learned at Mercyhurst has made all the difference in her career, and in life.
"In the dance department, we discussed at length the importance of transferable skills and were encouraged to tailor our non-major academic requirements to possible career transitions or our personal interests," she said "This has made a huge impact on the way I approach my work; I am always finding connections to past experiences while I consider the big picture, which has made me a go-to creative problem-solver."
Former Mercyhurst Dance Department Chair Tauna Hunter agreed. "Noelle was my graduate assistant for a year; she is a true leader and proudly represents Mercyhurst University," said Hunter.
Meanwhile, Lelakus said her work at the testing site is intense and her emotions fluctuate daily. "I want to provide compassion and brainpower however I can, but there's also the need to decompress," she said, which she does by walking outdoors, cooking, cleaning, reading, and talking to her family and friends.
She's increasingly aware of how important it is that she protects herself. "A good handwashing technique is the foundation of infection prevention," she said, "When I get home, my shoes stay outside the door of my condo, whatever I wear goes into the washing machine, and I go directly into the shower before I even sit down."
Asked whether she has advice for others dealing with the strains of this pandemic, she said, "Be grateful for any good you find amid this situation and take care of each other."