Students share posters, ad campaign to 'Stop Modern-Day Slavery'
Tuesday, November 23, 2021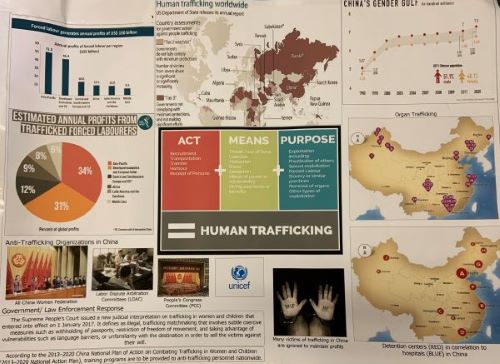 For many, the concept of human trafficking conjures up grisly images of young boys and girls, men and women, held captive and abused as slaves, very often for sexual exploitation.
But does the same vision arise when you take a bite out of a chocolate bar, sip a cappuccino, install a carpet, or buy a new outfit? In many countries, another major form of human trafficking is forced labor, particularly of children, through which victims are forced to harvest crops like cocoa and coffee beans, mine diamonds, produce textiles, and much more.
Mercyhurst University students in Dr. Nicole John-Danzell's course on human trafficking are exploring the prolific problem in its many forms and locales. 
"Students are often shocked to learn about the pervasiveness of Trafficking in Person (TIP), that it happens in their own back yards, and how complex this crime is than they originally thought," said John-Danzell. "My passion for exposing students to this course is to offer them tools to better understand the complexity of this problem."
Next month, her students will unveil human trafficking awareness posters illustrating their research and present an advertising campaign called STOP MDS – Stop Modern-Day Slavery. The Mercyhurst community is invited to view the presentations on Tuesday, Dec. 7, from 2 to 3:15 p.m. in Mercy Heritage Room.
Each of six groups will present research on a selected region, among them the United States, Asia, Latin America, Europe, and Africa. The posters will explore the larger historical, sociopolitical, and economic context in which human trafficking is conducted; notable forms of trafficking within their regions and consequences; the justice system, particularly prosecutorial practices; and trafficking rings and perpetrators in those regions.
Their research will also inform the audience on current initiatives aimed at mitigating the problem of human trafficking. 
"I hope my course and students' presentations bring heightened visibility to the problem of human trafficking, the role consumers and consumer culture play in human trafficking, such as consumption of seafood products, chocolate, and the plethora of everyday products that are tainted by the hands of trafficked victims via production and supply chains," John-Danzell said.