Six Mercyhurst PA students earn sizeable VA scholarships
Thursday, July 18, 2019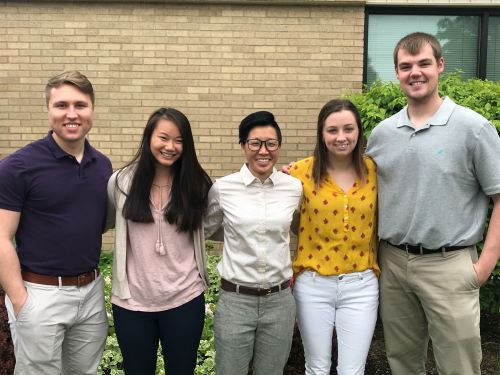 The U.S. Department of Veterans Affairs received nearly 500 applications for the Health Professional Scholarships that it awarded this year. Six of those sought-after awards went to Mercyhurst University students in the Physician Assistant Studies graduate program.
The scholarship totals approximately $40,000 and covers full tuition, fees and stipends for academic year 2019-2020, the year of the students' clinical rotations. In accepting the award, each student agrees to complete at least one of their clinical rotations at a VA hospital and then to become employed by a VA hospital for a minimum of two years after graduation.
The students (L-R in photo) are Nathanial Kopp, Brooklyn, Ohio; Emily Ankabrandt, Sciota, New York; Abigail DeSmyter, Grand Rapids, Michigan; Sidney Wallin, Russell, Pennsylvania; and Cameron Lawson of Pittsburgh. Pictured separately is Cody Harrington of Phoenix, Arizona.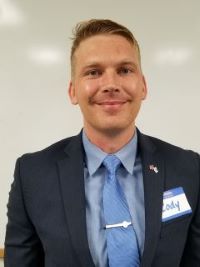 "I am so honored and thrilled to be a recipient of this year's VA scholarship. Having my grandparents, parents and brother in the military, I understand firsthand the sacrifices service members and their families make for our country. It is a wonderful opportunity to be able to give back through medicine to my military family and our veterans. – Emily Ankabrandt
"The Department of Physician Assistant Studies is very proud of our six students who have earned these prestigious scholarships, which will provide them with the financial support to pursue their degrees," said department chair Holly Jodon. "We are honored they will have the opportunity to complete rotations and gain employment within the Veteran's Affairs health care system after graduation to provide medical care to the veterans who have served our country."