Sing, dance, perform – COVID-19 can't derail the arts at Mercyhurst
Monday, September 28, 2020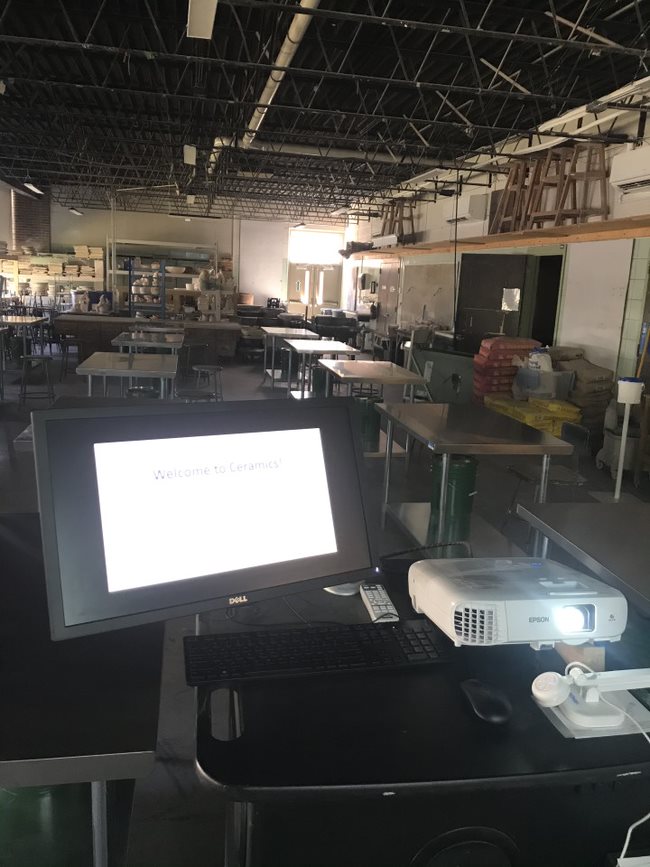 By now, you've heard about the various modes of instruction – in-person, virtual, and combined – that Mercyhurst University has creatively crafted as part of ongoing measures to mitigate the incidence of COVID-19 on campus. But what's happening with arts education is a unique undertaking all its own.
Perhaps the most complex program to manage during the pandemic rests with the music department, suggested Dr. Christina Riley Brown, dean of the Hafenmaier College of Humanities, Arts, and Social Sciences. Particular concerns surround the potential virus spread through vocal performance and the use of wind instruments.
The measures taken to avert those concerns are many, Riley Brown said, crediting Chairperson Dr. Nathan Hess and department faculty for their innovative instruction strategies.
The music department uses the spacious Walker Recital Hall as a venue for music classes and the similarly open space of Cummings Art Gallery for vocal performance lessons. Chorus is split between two venues: Walker and Taylor Little Theatre.
All choristers wear masks during rehearsal. New research has proven high-quality masks make a significant difference in stopping the spread of aerosols in vocal performance.
Singers bring their own music to rehearsal. Sharing of music is not permitted.
Vocal lessons are conducted 15 feet apart.
Another area of concern is the wind ensemble, which Riley Brown said has developed the following mitigation measures:
The ensemble spreads out across three venues to achieve 12 feet of distancing. 
All students wear masks, although students playing brass instruments have a bell cover and special blowhole mask, while those students with saxophones and clarinets wear a regular face mask on the chin when they play but have it pulled up over the mouth/nose when not playing.
To avoid the excessive build-up of aerosol-related suspensions in the rehearsal spaces, both the vocal and wind ensemble groups rehearse for 30 minutes, break for 20, and then rehearse for another 30 minutes.
In terms of the dance department, the stage in the Mary D'Angelo Performing Arts Center has been converted into additional practice space to maintain physical distancing, where easily assembled pipe barres were installed. Chairperson Noelle Partusch and the dance faculty and staff designed and installed the temporary studio themselves.
To minimize cross-traffic interaction, dancers use designated entrances and exits to the studios, with cleaning of floors and barres between classes.
Just as dancers are assigned large duffle bags in which to keep their supplies and limit cross contamination, so too is the way in studio arts, where students have their own toolboxes and are not permitted to share materials. Professor Jodi Staniunas-Hopper and faculty assembled specialized kits for every student in ceramics, painting, drawing, art appreciation, and art therapy.  To avoid students gathering around the instructor to watch a demonstration, cameras have been installed at the instructor stations, from which images are projected onto a large, wall-mounted monitor for student viewing.
In terms of the university's theatre program, numerous accommodations have been made under the direction of theatre professor Dr. Brett Johnson, and the fruits of student labors are set to debut Oct. 1-4 with a world premiere Zoom adaptation of Oscar Wilde's The Canterville Ghost.
By no means is the current situation ideal, but Riley Brown said she is encouraged by the faculty's dedication and ingenuity in making the best of circumstances, while equally lauding students for their patience and understanding.
"I have learned as a parent and as a dean of both the arts and education: art teachers will always rise to the occasion," she said. "I remind my own kids: This is not an ideal situation. But, there is NEVER an ideal situation—be patient.  We can still thrive."
PHOTO: Cleanliness and social distancing prevail in studio arts class