'She Kills Monsters' recounts young woman's journey of discovery
Wednesday, September 04, 2019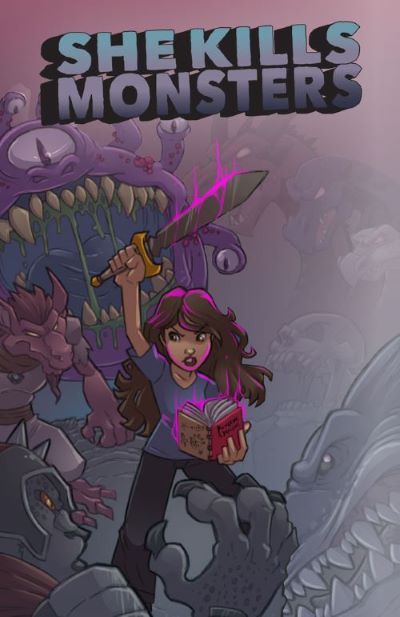 The Mercyhurst Theatre Program kicks off its 2019-20 season with the Erie premiere of She Kills Monsters, Qui Nguyen's comedic romp into the world of fantasy role-playing games.
She Kills Monsters tells the story of Agnes Evans as she leaves her childhood home in Ohio following the death of her teenage sister, Tilly. When Agnes finds Tilly's Dungeons & Dragons notebook, however, she stumbles into a journey of discovery and action-packed adventure in the imaginary world that was Tilly's refuge. In this high-octane dramatic comedy laden with homicidal fairies, nasty ogres, and 90s pop culture, acclaimed young playwright Qui Nguyen offers a heart-pounding homage to the geek and warrior within us all.
She Kills Monsters marks Dr. Brett D. Johnson's 25th production as director of the Mercyhurst Theatre Program. "From The Diary of Anne Frank to Dracula, Cabaret to Women on the Verge of a Nervous Breakdown, we've produced a diverse array of classic and contemporary plays and musicals over the past six years," Johnson said. "My primary consideration when choosing material is finding works that will challenge us both intellectually and aesthetically, and She Kills Monsters is no exception. One challenge in producing Nguyen's play is finding someone to stage the elaborate fight sequences."
Enter Pittsburgh-based fight director Randy Kovitz. Kovitz has staged fights for hundreds of productions on and off Broadway, in regional theater, and for film and television, and has worked with such notable actors as Sean Penn, Viggo Mortenson, John Malkovich, and Kelsey Grammer. His career highlights include the world premiere productions of Angels in America and Burn This, the Broadway production of The Kentucky Cycle, Sir Peter Hall's A Midsummer Night's Dream, and four seasons at the Tony Award-winning Utah Shakespeare Festival. He also boasts an impressive film and television resume, which includes Saturday Night Live, The Ballad of the Sad Café with Vanessa Redgrave and Keith Carradine, and The Addams Family (as fencing double for Raul Julia). 
Kovitz is assisted by Michael Petyak, a Pittsburgh-based actor, singer, and director who is also the resident fight director and stage movement teacher at Lincoln Park Performing Arts Center in Midland, Pennsylvania. 
The production team also includes scenic designer Tucker Topel, lighting designer Madeleine Steineck, puppet designer Aaron White, choreographer Jennie Cross, technical director Andrew Ferguson, assistant technical director John Prior, sound engineer Ben Friesen, production stage manager Bethany Sulecki, and assistant stage managers Skyela Burgess, Darby Shafron, and Elizabeth Shewan.
She Kills Monsters showcases the talents of 19 Mercyhurst students, including Elizabeth Shewan (Narrator), Ella Santillano (Tilly), Jenna Rosciszewski (Agnes), Jon Reddinger (Chuck), Nick Woll (Miles), Abby Whitman (Vera), Rosie Pregler (Lilith/Lilly), Allison Christopher (Kaliope/Kelly), Gianluca Ianiro (Orcus/Ronnie), Colin Domowicz (Steve), Tessa Sayre (Farrah the Faerie), Tori Altsman (Evil Gabbi), Monica Tinsley (Evil Tina), Genevieve Burgess (Ensemble), Olivia Gaffron (Ensemble), Natalie Gottfried (Ensemble), Rachele Heasley (Ensemble), Amelia Miguez (Ensemble), and Janeida Turbi (Ensemble).
Performances are Thursday through Saturday, Oct. 3-5, at 7:30 p.m., and Sunday, Oct. 6, at 2 p.m. in Taylor Little Theatre on the Mercyhurst campus. 
Single tickets are $16 for adults, $11 for seniors and non-Mercyhurst students, and $6 for Mercyhurst students. 
The theatre program will also offer a special half-price "midnight" performance on Friday, Oct. 4, at 11:55 p.m. 
All performances are general admission, with doors opening 30 minutes prior to curtain. Running time is approximately 90 minutes with no intermission.
Patrons can reserve tickets online at miac.mercyhurst.edu, by phone at 814-824-3000, or at the Mary D'Angelo Performing Arts Center box office. Tickets will also be on sale at Taylor Little Theatre beginning one hour before curtain. 
For more information, contact Dr. Brett Johnson: 814-824-2663; bjohnson@mercyhurst.edu.
Please note: This production contains strong language, adult themes, and scenes of graphic violence, and is recommended for mature audiences.