Seven Mercyhurst ROTC cadets earn full scholarships
Monday, September 16, 2019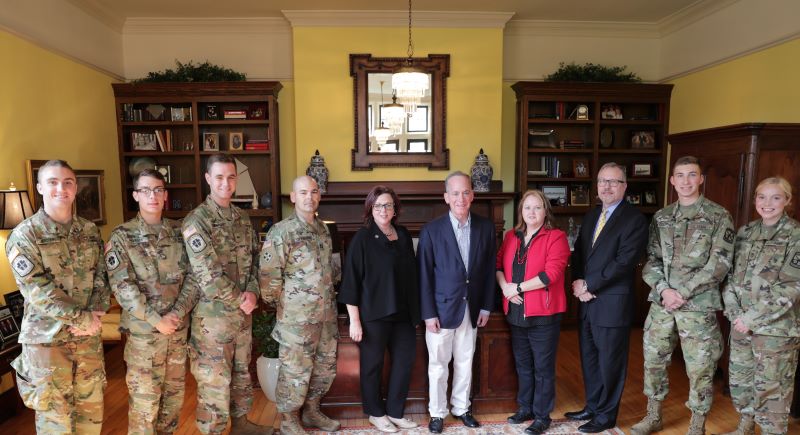 Seven Army ROTC cadets from the Pride of PA Battalion have been honored with scholarships worth more than $800,000 to complete their studies at Mercyhurst University.
The ROTC scholarship includes full college tuition and mandatory educational fees. It also provides an allowance for textbooks, all required equipment, and a monthly discretionary stipend of $420 in addition to opportunities for internships with Army units and overseas cultural immersion trips. 
Matt Schroder, an Intelligence Studies major, received a four-year scholarship. Three-year scholarships went to Criminal Justice major Miguel Rivera and Intelligence Studies majors John Courtney, Ryan Morrissey and Emma Leeser. Intelligence Studies major Andrew Johnson received a two-year award as did Criminal Justice major Dylan Bemiss.
ROTC is a demanding and challenging complement to traditional college courses.  Students who complete the full course of studies commission as second lieutenants in the National Guard, Army Reserves, or active duty Army.  They are immediately entrusted with the lives of American soldiers and are given responsibilities far beyond those of most freshly graduated students.
Capt. Brandon Utykanski, assistant professor of Military Science, said, "All seven of these students have demonstrated an outstanding work ethic and exceptional leadership attributes within both the ROTC and the greater Mercyhurst community. Some of them came to the university knowing that they wanted military service to be a part of their future. Others came knowing nothing other than the fact that ROTC could offer them some scholarship money, but quickly found an organization that embraced them and a calling that rewarded them more than just financially. I'm very proud of these young leaders and feel blessed for the opportunity to be a part of their development."
In addition to having their college education expenses covered, Utykanski said newly commissioned lieutenants who chose active duty service are placed in a job with a starting salary of approximately $50,000 immediately upon graduation, rising rapidly to about $70- to $80,000 as they accrue time in service and get promoted to captain after four years.
To learn more about ROTC and military science at Mercyhurst, click here.
PHOTO: (L to R) Matt Schroder, Miguel Rivera, Ryan Morrissey, Capt. Brandon Utykanski, Provost Leanne Roberts, President Michael Victor, VP for Student Life Laura Zirkle, Ridge College Dean Duncan McGill, John Courtney and Emma Leeser