Seniors extend Mercy legacy through class gift
Friday, May 11, 2018
True to tradition, the Class of 2018 presented its Senior Gift to President Michael Victor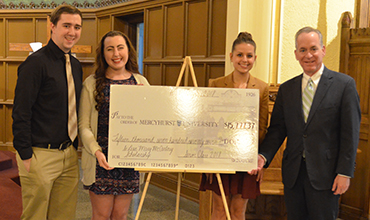 on Friday, May 11, in the form of an endowed scholarship named after Sister Lisa Mary McCartney.
Doing the honors was Senior Gift Committee Chair Lynne Gillott. "At the beginning of the academic year, the committee set a goal of raising $12,000 for the scholarship, with a 60 percent participation rate from our class," she said. "I am so unbelievably proud and honored to announce that we have surpassed our goals, with a ­­63 percent participation rate and a $15,777.37 check to present today."
Also at the presentation was Trustee and Mercyhurst alumnus Lev Kubiak, who made a $10,000 match to the scholarship fund. "His generous contribution has allowed us to nearly double the funds we have raised, making this gift an endowed scholarship that will benefit future Lakers for years and years to come," Gillott said.
The Sister Lisa Mary McCartney Scholarship will be rewarded to a future Laker who meets the following criteria:
The student must be an incoming senior The student must maintain a 3.0 grade point average
The student must be dedicated to service both within the Mercyhurst community and beyond, exemplifying the Mercy Mission.
In receiving the gift, President Victor said, "Sister Lisa Mary McCartney is the heart and soul of Mercyhurst University, and I say that with all sincerity. I am thrilled that this year's graduating class has chosen to honor her in this way."
In addition to Gillott, members of the Senior Gift Committee are Natalie Koons, Austin Shinhearl, Cole Lowe, Kimberly Kramer, Morgan Wangler, Cristal Maldonado, Cheyanne Crum, Amber Matha, Troy MacMullan, Natalie Merucci, Catherine Erway and Jenny Sabliov.
PHOTO: Senior Class Gift Committee leaders, from left, Austin Shinhearl, Lynne Gillott and Natalie Koons present their gift to President Michael T. Victor.