Scholarships created by Classes of 2018, 2019 awarded
Tuesday, September 15, 2020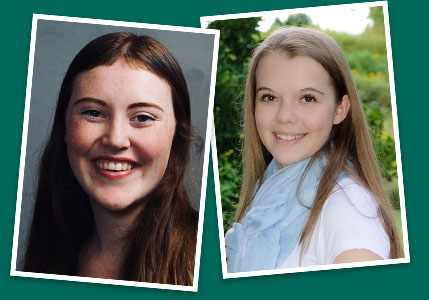 Two Mercyhurst seniors have been named the first recipients of endowed scholarships created by recent graduating classes.
Marina Boyle received the Sister Lisa Mary McCartney Scholarship. The McCartney Scholarship, the senior gift of the Class of 2018, honors Sister Lisa Mary, who retired in 2018 as vice president for mission and previously taught in Mercyhurst's English Department for a quarter-century. It is to be given to a student who demonstrates the enterprising attitude of the Sisters of Mercy as well an appreciation for the legacy and traditions established by the Sisters.
Rachel Sallach received the Living the Dream Scholarship, established by the Class of 2019. The title comes from motivational speaker Curtis Zimmerman, who addresses new students at Mercyhurst during Welcome Week each year, encouraging students to "live life at performance level." The scholarship is intended to help junior or senior students meet the costs of internships or field experiences that will help them get their ideal job.
Both recipients were chosen through competitive application processes.
Boyle, a Business Competitive Intelligence major from Dublin, Ireland, is editor-in-chief of the Merciad, an Ambassador, and a Resident Assistant. She has organized several spring break service trips with Habitat for Humanity, served Student Government as a senator and event programmer, and is part of clubs including the Irish Club and International Student Organization. Boyle is also chairing the Class of 2021 Senior Gift Committee this year.
In thanking the donors who made the scholarship possible, Boyle said, "The values of the Sisters of Mercy and this institution are a guideline for how I live my life, and I hope to do their legacy justice as I go out into the world next year. Sr. Lisa Mary, and indeed all of the sisters whom I have had the pleasure of knowing, will be mentors to me beyond the gates."
Sallach is a commuter student from Erie who majors in Human Resource Management. She's part of the Mercyhurst Honors Program and an active participant in Campus Ministry, where she co-leads the Commuter Ministry and is on the leadership team for Carpe Diem 15. A Study Abroad trip to Guyana in January 2020 has been a highlight of her Mercyhurst career, exposing her to the many ministries the Sisters of Mercy operate in that South American nation as well as what it means to be a global citizen.
"I feel honored to have been chosen as someone who is seeking to 'Live the Dream,'" Sallach said. "I am so grateful for my time at Mercyhurst and the experiences I have been afforded by being a student. They have helped me to grow professionally, but even more importantly I have grown as an individual."
Since at least 1989, it has been tradition for Mercyhurst seniors to raise funds to leave a legacy gift to their alma mater. Student efforts were augmented in both 2018 and 2019 by Trustee and Mercyhurst alumnus Lev Kubiak, who agreed to match student funds up to $10,000. His generosity enabled both classes to create endowed scholarships that can be awarded indefinitely.
PHOTO: (L-R) Marina Boyle, Rachel Sallach