Sarah Allen, Brad Davis named new assistant vice presidents
Wednesday, September 01, 2021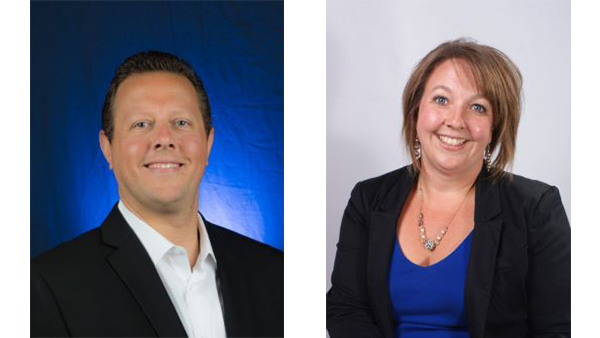 Mercyhurst University has made a number of new appointments in recent weeks, the latest being the promotion of Executive Director of Campus Involvement Sarah Allen to Assistant Vice President for Student Life, and Athletic Director Brad Davis to Assistant Vice President for Athletics, effective today.
Throughout her 18 years at Mercyhurst, Allen has held various positions within the Division of Student Life. She began her career as an assistant director of Residence Life & Student Conduct in June 2003. In 2005, she followed her passion for student activities as an assistant director of the Student Union & Student Activities. In 2011, she was instrumental in establishing the Campus Involvement Center and, as director, created additional positions to enhance the overall student experience.   
Allen has been involved in multiple improvement projects at the university, among them the 2011 re-design of the Student Union, including ongoing upgrades that will be completed in spring 2022. She has embraced the Mercy Mission as a Mercy Emissary, as Staff Senate president, and has been involved in the planning of Hurst Day.  
In her new role, she will be instrumental in creating policies and procedures for the Division of Student Life, assisting athletics with summer conferences and trainings, creating new traditions, and enhancing the student experience.
"Sarah has a proven track record as an inclusive and thoughtful leader who is deeply committed to student success and keenly appreciates that our students are at the heart of everything we do," said Vice President for Student Life Dr. Laura Zirkle in announcing the appointment. "In her position, Sarah oversees programs that enhance the university experience for our students, ensuring that they have all of the support and transformative opportunities they need to thrive at Mercyhurst. I am confident that in her new role, she will continue to be a strong advocate for our students and that her skills and talents will be shared among a broader segment of our university community."
Allen's campus involvement post will transition to Steph Przepiora.
Brad Davis is in his fourth year as the director of athletics at Mercyhurst, a position in which he has excelled, particularly in helping to secure the largest alumni gift in school history, $4 million from William and Betsy Vorsheck, which kickstarted the launch of the Mercyhurst Laker for Life Campaign in January 2019. 
Davis has completed a comprehensive facility improvement plan providing Mercyhurst student-athletes with first-class facilities, including renovations to the Mercyhurst Ice Center, Saxon Stadium, and the baseball/soccer field, while building four new locker rooms, featuring new space for women's soccer and softball. Just this fall, the university dedicated a new turf field with lights that will be used by the softball program and shared with Mercyhurst Prep. A totally renovated athletic center, including the Owen J. McCormick Basketball Court, will be ready for the upcoming season. 
In the classroom, Mercyhurst's student-athletes continue to excel as the department led the PSAC in Academic Success Rate (ASR) for the fourth time in five years, while 24 of 25 programs recorded a GPA of 3.0 or better.
"Brad's commitment to the holistic development of student-athletes speaks directly to our mission of continuing the rich legacy of athletics at Mercyhurst University," said Zirkle. "His depth of experience in all aspects of NCAA athletics, his passion for the student-athlete experience, and his accessible leadership style are of enormous benefit to our administration, coaches, staff, and students."