Rotary, Mercyhurst slate annual ethics event
Wednesday, February 28, 2018
Juniors from all 19 area high schools will convene on the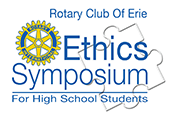 campus of Mercyhurst University Tuesday, March 6, for the 8th Annual Rotary Club of Erie Ethics Symposium, organized in partnership with Mercyhurst's Evelyn Lincoln Institute for Ethics and Society.
The daylong symposium, which begins with registration at 8 a.m. at the Mary D'Angelo Performing Arts Center, engages students in discourse over ethical dilemmas that they may face in their lives now and in the future. The event includes a continental breakfast, performance and discussion of a play performed by actors from Mercyhurst University, breakout sessions and an open-mike gathering to discuss ethical issues with university professors and Rotarians, and lunch in the university's dining hall.  
"With the Rotary Club's slogan of 'Service above Self,' facilitating the Ethics Symposium is a good fit with our mission and we are proud to bring this initiative once again to the Erie community," said Rotary President Dennis Lagan.
At the symposium, students will learn Rotary's "Four-Way Test," which is a nonpartisan and nonsectarian ethical guide for personal and professional relationships. The test includes these questions to consider in decision-making: Is it the truth? Is it fair to all concerned? Will it build goodwill and better friendships? Will it be beneficialto all concerned? Students will apply these questions to important moral issues that they face in their daily lives.
"The ability to respond constructively to difficult situations and build good relationships through the Rotary Four-Way Test is an important aspect of building good societies, and mirrors the core values of the Evelyn Lincoln Institute for Ethics and Society and Mercyhurst University," said Dr. Verna Ehret, who directs the institute. "We are privileged to be able to work with Rotary on this annual event for high school students." 
"Our hope is to give teenagers a tool for ethical decision making that they can use at home, at school and in their community," said Heather Yahn, co-chairpersons of this year's event.  Co-chair Stephanie Williams added, "It is our hope that these students learn how to make ethical decision-making part of their everyday life and to share what they learn here with their fellow students and teachers so that ethics and the Four-Way Test become engrained in their school culture."
For more information, contact Mercyhurst event chairman Dr. Richard W. McCarty: rmccarty@mercyhurst.edu; or Rotarian Bob Peters, bruggerpreplan@outlook.com.