Remembering Kenny through Senior Class Gift Scholarship
Wednesday, February 17, 2021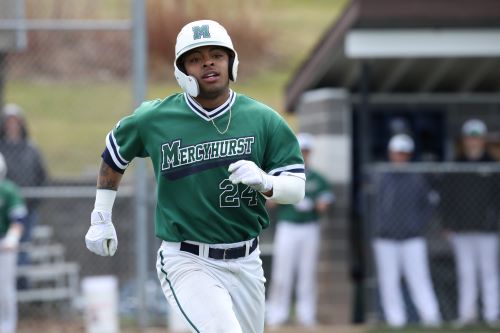 (EDITOR'S NOTE: This story first appeared in The Insider, a Mercyhurst Advancement publication for the Leadership Giving Society. Inasmuch as the Class of 2021 is working to raise funds for the Kenny Robinson Beat the Odds Scholarship during the challenging times of COVID-19, we have opted to run it again. Anyone wishing to remember Kenny in this special way can donate at the Senior Class Gift webpage.)
Their paths did not cross during life, but their connection couldn't be more alive.
Mercyhurst University senior Marina Boyle was at home in Dublin, Ireland, when she saw word on social media of fellow student Kenny Robinson's tragic death. He had been fishing with friends off of Neville Island in his native Pittsburgh on May 16, 2020, when he fell into the Ohio River and disappeared.  Presumed dead, his body was found nearly a week later.
"It was so sad," said Marina. "Here was someone who had achieved so much and had his life tragically taken just when he was about to achieve even more."
Kenny was a key member of the Lakers back-to-back Regional Championship and World Series baseball teams. He graduated in 2020 with a bachelor's degree in sports business management, and had intended to return in the fall and study for a master's degree in organizational leadership while helping coach the baseball team.
Kenny's final tweet was May 10, 2020, the day of Mercyhurst's graduation, which had to be canceled given the pandemic.
"Today was supposed to be the day I walked across that big stage and shed a few tears, the day where I looked back on all the times I wanted to quit but kept pushing. It's been a crazy five years but I couldn't be more excited to finally say I am a College Graduate."
He had "beat the odds" to reach that pinnacle, an expression he had used to describe his own life circumstances and to motivate his fellow teammates. "Kenny was a minority student who came from a background where there were obstacles all around him, and he beat the odds by overcoming these," Marina said.
Marina, meanwhile, is the first recipient of a Mercyhurst Senior Class Gift Scholarship. For years, seniors have raised funds to give a lasting gift to the university upon their graduation. In 2018, it was decided that future gifts would take the form of scholarships. Marina received the Sister Lisa Mary McCartney Scholarship established by the Class of 2018, an award given to the student who best demonstrates the enterprising attitude of the Sisters of Mercy as well an appreciation for the legacy and traditions established by the Sisters.
When Marina was chosen to chair the Class of 2021 Senior Class Gift Committee with fellow seniors Grace Siwinski and Claire Orr, she immediately thought of "Kenny" and honoring his "beat the odds" legacy.
"It made perfect sense to me," she said. "It was such a difficult year for Kenny's class, what with the pandemic and the racial injustice, but Kenny stood out as a positive role model for so many. We felt that his legacy would resonate not only with the Class of 2021 but for all those whose lives he touched."
In the words of the Senior Class Gift Committee, "Kenny was a passionate athlete, a positive soul, a selfless friend, and a true teammate on and off the field." The Kenny Robinson Beat the Odds Scholarship will help a future Laker who embodies Kenny's spirit and legacy in an inspirational and meaningful way. 
The committee aims to raise $15,000 by the end of the year to create the endowed scholarship. Since the pandemic has eliminated the customary group fundraisers, the committee must rely mainly on online initiatives. 
There are no words to express the pain we have felt this week," said head baseball coach Joe Spano upon learning of Kenny's death last spring. "We have prayed for a miracle, but our worst fears were realized. We love Kenny and will make sure that his memory lives on."
And so it will…