'Raw Edges' concert features aspiring choreographers
Tuesday, April 20, 2021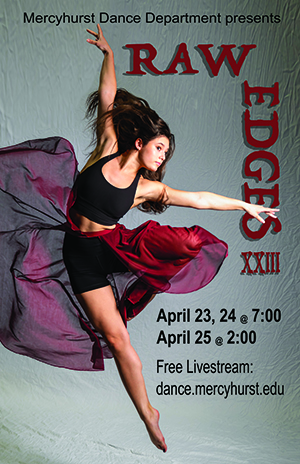 The Mercyhurst University Dance Department concludes its 2020-21 season with three performances of its popular Raw Edges concert April 23-25.
This marks the 23rd edition of Raw Edges, which annually showcases cutting-edge choreography created by senior dance majors. Due to COVID, no audience will be permitted in the Mary D'Angelo Performing Arts Center, but all three shows will be livestreamed for the public to watch at no charge.
Performances are scheduled on Friday and Saturday, April 23-24, at 7 p.m., and Sunday, April 25, at 2 p.m. The livestream link will be available on the Dance Department's webpage, mercyhurst.edu/dance.
The 11 choreographers began working on their projects during the Choreography III class during fall 2020 and polished them during their Senior Capstone class this spring. Each senior is responsible for the entire project, including choosing and researching a theme, selecting music, choreographing the dance, casting fellow students, and supervising rehearsals. They are mentored throughout the process by faculty members C. Noelle Partusch, executive director and producer of Raw Edges, and Mark and Solveig Santillano, artistic directors.
Themes for this year's pieces vary widely. For example, Annelise Browne's "We Want Our MTV" is a fun flashback to the 1980s set to music by The Buggles, Bon Jovi, Michael Jackson, and a-ha, while Austin Duclos focuses on the grieving process with a personal narrative about his late grandfather. Haley Huntley weaves radio announcements designed to recruit women to join the war effort during the 1940s into her musical score for "Conversations with my Radio," and Margaret Vivian explores the concept of empathy and interconnectedness in "One Out of Many."
Other students tackle topics including gender stereotypes and domestic violence, hierarchical structures that perpetuate sexism, homophobia, body discrimination, racism, Bonnie & Clyde, and more.
It's a challenging assignment for the students in any year, but COVID-related challenges forced them to deal with many new limitations and perimeters. Choreographers had to work with social distancing and mask wearing, and the use of touch was strictly limited to dancers within pods. COVID prevention procedures required increased floor washing and regular hand sanitizing.
PHOTO: Senior dance major Rose Kelly by Mark Santillano