Princeton Review names Mercyhurst to its annual 'Guide to Green Colleges'
Friday, October 25, 2019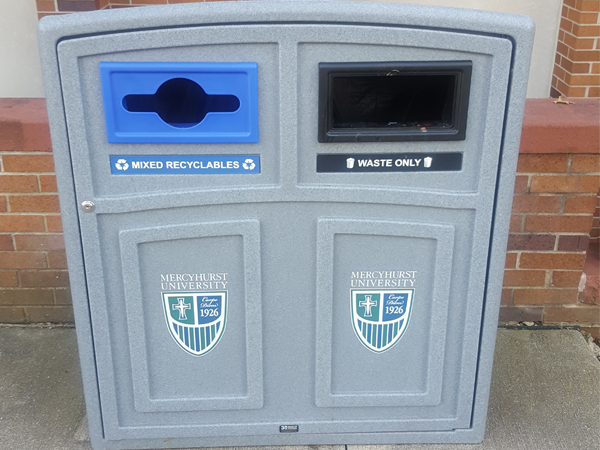 Mercyhurst University was named to The Princeton Review's annual Guide to Green Colleges, a free resource that the education service company has created since 2010 for environmentally aware college applicants.
The 2019 edition profiles 413 colleges the company chose out of nearly 700 schools it surveyed in 2018–19 with strong commitments to green practices and programs. The editors analyzed more than 25 data points for the final selection of schools for the guide, covering the schools' academic offerings and initiatives, campus policies and practices, and green-career preparation for students.
"These schools are standouts for their exemplary commitments to sustainability," said Editor-in-Chief Rob Franek. "With initiatives ranging from solar-powered residence halls and trayless dining halls to robust offerings in environmental studies, they are, each in their own ways, outstanding institutions for students seeking to study and live at a green college. We recommend these schools highly and we are especially pleased to salute them during National Campus Sustainability Month."
Mercyhurst has a long history of sustainability initiatives and an active Green Team, and is among the nine founding partners of Erie's Emerging 2030 District, an initiative to promote clean and cost-efficient energy and water use in the city of Erie, while reducing transportation emissions.
Recent green initiatives at Mercyhurst include:
LED lighting upgrades at the Erie and North East campuses 
Mercyhurst Student Government (MSG) purchase of reusable coffee mugs for incoming freshmen
MSG purchase of solar umbrellas near the sport court at Ryan Hall
Purchase of a water-saving soaker tub for the Athletic Department
Police and Safety, Maintenance, and Recycling use electric vehicles
Creation of a pollinator garden in the Sister Maura Smith Garden
Recycle plastic bags and Styrofoam and repurpose or compost leftover student newspapers.
"Mercyhurst University's commitment to sustainability goes back decades to the courageous leadership of Sister Maura Smith and the Sisters' longstanding commitment to caring for the earth and working to address the climate change crisis," said Dr. Greg Baker, who oversees sustainability efforts as vice president for mission and is a member of the university's Green Team. "This recognition from the Princeton Review points to the committed work of many people across our campuses, most notably the Green Team, the Sustainability Studies minor, and the diligent leadership of our most recent sustainability coordinator, Sarah Bennett."
Meanwhile, Franek cited findings of a survey by The Princeton Review indicating a high level of interest among college applicants and their parents about environmental and sustainability issues. This year, a solid majority (64%) of the 11,900 teens and parents that the company polled for its 2019 College Hopes & Worries Survey said that having information about a college's commitment to the environment would affect their decision to apply to or attend the school. 
"With a commitment to our mission and core values, Mercyhurst has made intentional efforts to be responsible stewards of the Earth's limited resources through multiple institutional commitments including our Green Team, academic programming specifically connected to sustainability, and being a founding partner of Erie's 2030 Initiative," said Mercyhurst Provost Leanne Roberts. "These institutional efforts have come together through the efforts of our many committed faculty, staff, and students who manage these most important, yet time and energy intensive, projects."