President Getz marks first day 'visiting and listening'
Tuesday, July 13, 2021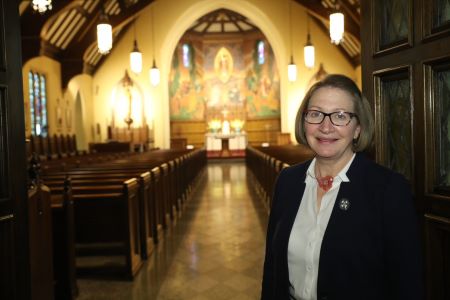 Monday, July 12, 2021, marked the first day for Dr. Kathleen A. Getz, who assumes leadership of Mercyhurst University as its 13th president. Her day was interspersed with well wishes from many colleagues, including gifts of flowers and plants.
She also used the occasion to pen a letter to the college community in which she wrote: "Since I last spoke with you over Zoom in May, I've been counting down the days until I arrived on campus. I am so glad that this day is finally here, and I am ready and eager to get to work. It's going to take a little while to get used to being called "President Getz," though, so bear with me."
President Getz is decorating the president's office with her own personal touches, although front and center is a large conference table and chairs, a symbol of her collaborative leadership style.
She began her first day with a series of meetings, often choosing to meet her colleagues in their respective offices so she could get a glimpse of who they are.
"There's only one way I can see beginning this new venture in my life," she wrote in her inaugural message, "and that's by listening to you. As I said earlier, one of the key reasons I am here is because I was struck by the consonance of my own values with those of Mercyhurst. Leading people with whom I share certain core values to transform the lives of students and help our community seems to me to be the opportunity of a lifetime."
Getz said her tenure will be marked by a climate of hope as the university works to reinvigorate the traditional Mercyhurst experience sans COVID and moves toward celebrating its Centennial in 2026.
For more information on Mercyhurst's new president, please visit the Presidential Search website.