Pioneering cyber-autism pilot program planned at Hurst
Friday, January 29, 2021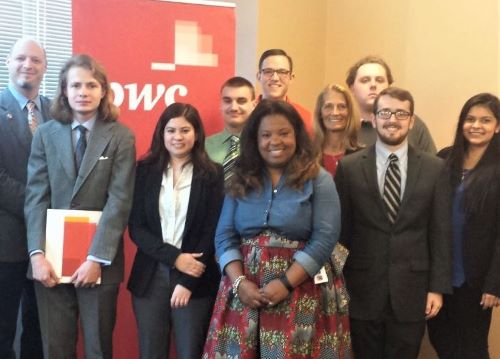 There's much research about the capacity of people with high-functioning autism to satisfy the demands of many careers in the cybersecurity industry. Their strengths include cognitive pattern recognition, attention to detail, logical and methodical thinking, focus, and integrity.
Despite this documented correlation, few, if any, have capitalized on this opportunity – until now.
Mercyhurst University, in collaboration with PricewaterhouseCoopers (PwC), is launching a first-of-its-kind Cyber-Autism Pilot Program to capitalize on the skills of students on the spectrum and prepare them for jobs in the cybersecurity realm, thereby helping to satisfy a pressing, global need. 
Mercyhurst President Michael T. Victor said, "We are excited to offer a program that will address both the exploding need for cybersecurity professionals and the ongoing need for meaningful career opportunities for our students on the autism spectrum. In collaborating with a corporate partner as globally respected as PwC, we believe our pilot program will produce a model that can be replicated throughout the United States." 
The Cyber-Autism Pilot Program blends the strengths of the award-winning Autism Initiative at Mercyhurst (AIM) and the university's flourishing cybersecurity program.  PwC is providing seed funding for the initiative and internship opportunities for students in the cohort.
Mercyhurst developed the new program based on the success of similar international models. Faced with daunting shortages of trained cybersecurity professionals, countries around the world – including England, Australia, and Israel – have begun to tap nontraditional pools of talent to fill these vital jobs. 
As a model and a resource for universities across the country, AIM has also been selected by the White House to provide support in developing neurodiversity in the cybersecurity field for federal agencies. 
"I am very excited that our longstanding partnership with PwC has evolved to bring this fantastic collaboration to light," said AIM Director Brad McGarry. "Since 2015, AIM students have participated in vocational exposure experiences at PwC in New York City and Tyson Corners, Virginia, and this new venture will better prepare and position our AIM students for sustainable and meaningful employment, especially in the cybersecurity field." 
Mercyhurst's cybersecurity initiative, meanwhile, hosts a four-year undergraduate major and graduate program within the Ridge College of Intelligence Studies and Applied Sciences. The Ridge College is the oldest and largest school of intelligence studies in the United States. 
FILE PHOTO: AIM program emphasizes vocational exposure experiences.