Photography exhibit documents 'COMING HOME: Reentry After Incarceration'
Monday, September 16, 2019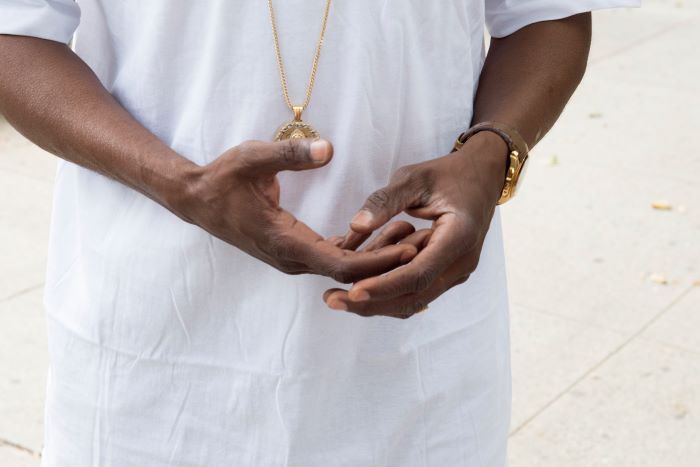 COMING HOME: Reentry After Incarceration – the next exhibit in Mercyhurst University's Cummings Gallery – documents formerly incarcerated people as they return to society. The collaborative project uses portraits by photographer Errol Daniels and essays by writer Katherine Russell to humanize criminal justice statistics and portray the challenges of post-incarceration life. 
COMING HOME: Reentry After Incarceration opens Monday, Sept. 23, and continues through Saturday, Oct. 26.  Artist Errol Daniels will discuss his work and answer questions from the community during the opening reception on Thursday, Sept. 26, from 7 to 9 p.m.
Prior to the reception, a panel of former prisoners will share their personal stories of successes and challenges when transitioning back to the local community. Dr. Maria Garase, chair of the Department of Criminology and Criminal Justice, will moderate the panel, which will be held in Zurn 114 from 5 to 6:30 p.m.
Copies of Daniels' book COMING HOME: Reentry After Incarceration will be for sale in the gallery during the reception, and are available for purchase in the Mercyhurst Bookstore during the duration of this exhibit.
The exhibit is funded by the Rev. Sylvester Jaworski endowment, named after the Divine Word missionary and photographer who was memorialized in a gift to Cummings Gallery by the late Audrey Hirt '49.
Cummings Gallery director Jessica Stadtmueller noted, "We present this exhibit not only for the quality of the photography itself, but because we believe this project and its content supports the university's Mercy mission, which calls us to be socially merciful, compassionately hospitable, and reflectively aware."
Daniels, a resident of Buffalo, New York, says of his project, "By personalizing people's stories as they re-enter society from jail or prison, I hope to encourage others in the community to remove barriers that lead to recidivism, and shift the tone toward restorative, rehabilitative approaches.
"Most incarcerated people will reenter society, and it is critical to explore their stories when we talk about preventing further crime and victimization. It is also critical to acknowledge the troubling state of our criminal justice system and its poor outcomes, as well as its disparate impact on people of color and the economically disadvantaged." 
Cummings Gallery is located in the lobby of the Mary D'Angelo Performing Arts Center and is open Monday through Friday from 11 a.m. to 5 p.m., and Saturday from noon-3 p.m.; closed Sunday. The gallery will also be closed Oct. 10-13 during Mercyhurst's fall break. 
For information, contact gallery director Jessica Stadtmueller at 814-824-2092, or jstadtmueller@mercyhurst.edu.