Parade of Pups brightens Sister Mary Paul's 90th birthday
Tuesday, September 15, 2020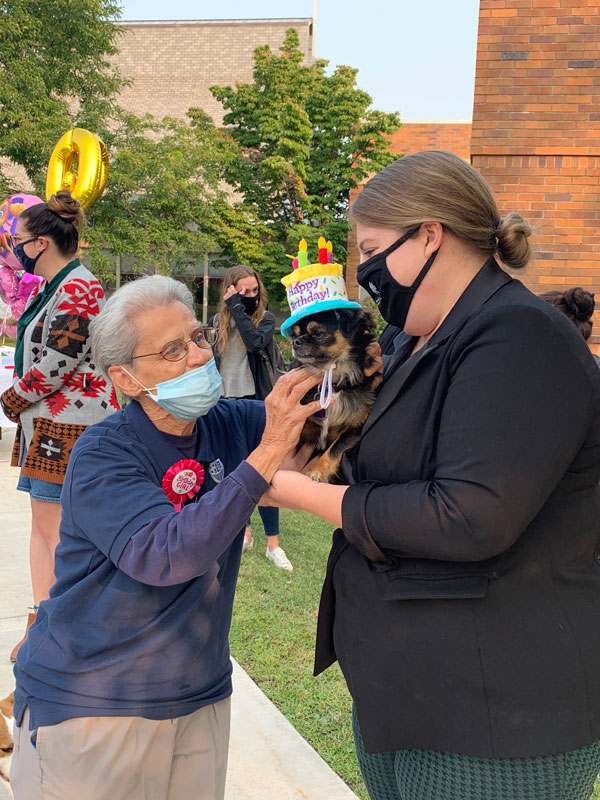 Ninety candles couldn't brighten Sister Mary Paul Carioty's birthday as much as the dozen dogs that surprised her with a Parade of Pups this morning at the Mercy Motherhouse.
Knowing of Sister's love for dogs, Residence Life Director Megan McKenna and her colleagues decided to pack a little extra sweetness into Sister's day by bringing a few canines along with her cake.
Professor Clint Jones showed up with his festively bow-tied Welsh Corgi, Larry; not to be outdone, PR Director Debbie Morton produced her Corgi, Willow, bedecked in a fiery bandana and biker shades. Brooklyn Kohlheim, head women's basketball coach, came with a pair of Weimaraners, Ellie and Edith, while McKenna was a statement in extremes with Sassy, the tiniest dog – a Chihuahua-Pomeranian mix – brandishing the largest hat.
For years, Sister Mary Paul Carioty has been a familiar face on the Mercyhurst campus and one of the few Sisters of Mercy working at the university. This year, because of the pandemic, she has not been able to assume her usual high-profile post at Baldwin Hall's front desk, where she's greeted the female residents since 2004.
Sister has had varied careers, including teaching elementary school; earning her LPN and later RN credentials to work as an emergency room nurse; serving as a medical missionary in Ethiopia; and staffing a medical clinic for the homeless in Washington, D.C., for more than a decade.
Mercy Sisters, she said, are there wherever there's a need to help the poor, sick, or uneducated. She hopes that the presence of Sisters on campus helps keep the Mercy spirit alive. "Mercy is our big passion," she said. "I don't want the students to forget how we started or the wonderful legacy that Mother Borgia left us."
(NOTE: Next week, Sept. 21-25, is Mercy Week and will be observed with numerous events on the Mercyhurst campus. See related news release: Campus community prepares to celebrate Mercy Week 2020.)
PHOTO: Sister Mary Paul with Megan McKenna's dog, Sassy, being held by Sidney Rice, assistant director of residence life.