Pandemic heightens need for sense of belonging among students
Friday, February 19, 2021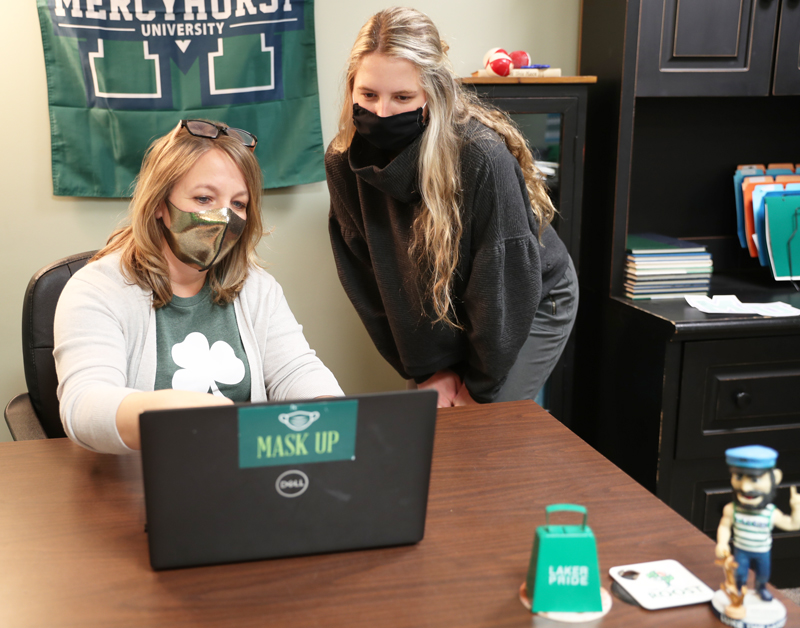 You've seen the Sling commercial: a daughter phones her father to ask, "Hey Dad, Bobby's wondering if you can watch cartoons with him."   
As directed, a puzzled grandpa turns on his computer to find a cartoon playing and his grandson in a Zoom-like box in the corner waiting to watch with him. 
It's a meaningful connection, not unlike the concept behind the Mercyhurst University Laker Link Program, which seeks to connect students who are quarantined or isolated on campus because of COVID-19 with students who are not.
"We just felt that we needed to do as much as we could to support our students in quarantine," said Jenell Patton, assistant director of Campus Ministry who orchestrated the concept with Sarah Allen, executive director for Campus Involvement. 
Quarantining can be lonely, and the Laker Link Program is simply one way of creating a bond that can make the time pass with less stress and anxiety, added Allen.
Research suggests that university students are a vulnerable population, often experiencing higher levels of anxiety and depression than the general population. So, when the nature of their educational experience changes as radically as it has with the pandemic, particularly the need to shelter in place because of illness or close contact, the mental health aspects of the experience may be amplified.
Alexa Mitchell knows. The sophomore business management major got COVID after Mercyhurst went all remote toward the end of fall semester and had to sequester at home in Wooster, Ohio, for 10 days.  
"It's very isolating," she said. "For the first five days I got through it fine, even though I really wanted to see my family, but the last five days were much tougher."
Fortunately, she said, she still had school work to keep her busy, but she needed something more, so she decided to find a hobby. "I started crocheting," she said. "I had someone pick up the yarn and needles for me, and that helped me cope."
She knew that isolating at home in familiar surroundings provided an extra layer of comfort that being on campus might not. "I don't know about anyone else, but when I get sick, I get homesick, too, so it was helpful to be at home" she said. 
Still, had she needed to isolate on campus, she knew as a Mercyhurst volleyball player that she could always count on her teammates for support. "I began to think about the students who had to isolate on campus and didn't have family nearby or a team of friends to be there for them," she said.
That empathy led Alexa to join the Laker Link Program. Her first connection was with another COVID-positive student who had to isolate at home. Although Alexa wasn't there to run errands or bring items to cheer her, Alexa said they had daily communications. The two explored each other's interests and Alexa even shared inspirational quotations that they would talk about. 
"It's just a very nice, simple way of helping someone out," she said. "I think it was as beneficial to me as I hope it was to her."
PHOTO: Campus Involvement Executive Director Sarah Allen, left, meets with student Alexa Mitchell to discuss the Laker Link Program.