PA SHARP grant facilitates next phase of 'A Trail of Shared Heritage'
Friday, December 17, 2021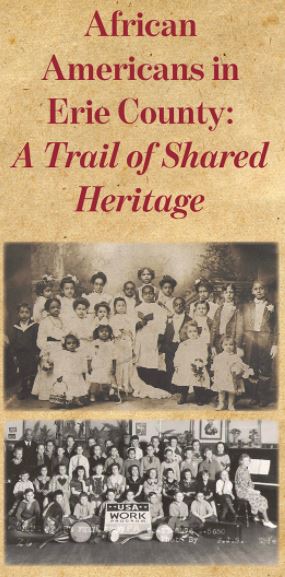 Mercyhurst University has received a grant from the Pennsylvania Humanities Council (PHC) to work with community partners on installing interpretive signage to complement the county-wide project, African Americans in Erie: A Trail of Shared Heritage.
PA SHARP, a $1.2 million humanities recovery and growth program of the PHC, has allocated $16,000 for the signage, which will highlight some of the 29 significant sites on the walking and driving tour of A Shared Heritage, a project publicly unveiled in August 2020.
Brought to fruition by History Professor Dr. Chris Magoc and students of the Thomas B. Hagen History Department at Mercyhurst in collaboration with community partners, A Shared Heritage commemorates what Magoc calls "the culturally rich, historically courageous, and socially dynamic history of African Americans in Erie County. 
"These are stories of daring heroism, pioneering innovation, of generational perseverance in the face of impossibly difficult odds — in short, great American stories." 
In seeking the grant, Magoc credited the work of Preservation Erie Board President Melinda Meyer, who has been central to the project's development from its early days, and Amy Danzer, Mercyhurst grant relations director.
"The A Shared Heritage project is years in the making," Meyer said. "When it was conceived, the idea was to share the history of Erie County's Black community through an easy-to-use driving tour, but as the project has evolved, so too has the vision and potential of it. The funding received from PHC will enable us to physically mark places important to the community's shared story and engage the public in much-needed discussions around telling complete histories and elevating ignored or suppressed voices. It's a critical and exciting next step."
The wayside markers will be positioned at 10 sites in the City of Erie, complementing current downtown and neighborhood revitalization efforts and drawing attention to the uniqueness of the sites. The markers will not only serve as a vital tool to educate, but to support heritage tourism, one of the fastest-growing sectors of the tourism industry. Installation will be contingent on coordinating with city officials and take between one and three years to complete, according to the grant application.
The grant also paves the way for two additional initiatives: 
The Jefferson Educational Society in partnership with A Shared Heritage will publish historical content through the society's e-publications and the Journal of Erie Studies.
The Shared Heritage project team will facilitate a series of three public forums aimed at building community consensus on the relevance of teaching and learning about African American history.
Magoc said that the long journey to the project's original unveiling may have been fortuitous. "What a moment to be bringing this history more fully into our region's public consciousness, with interest heightened in historic racial injustice and the struggle for full citizenship for all Americans," he said. "We're confident A Shared Heritage will not only help raise public consciousness and appreciation of a rich and important history, but also foster interracial understanding and enliven the regional conversation about how to achieve a more just and equitable future."