OpenedEyes presentation highlights Faculty Development Training
Tuesday, August 10, 2021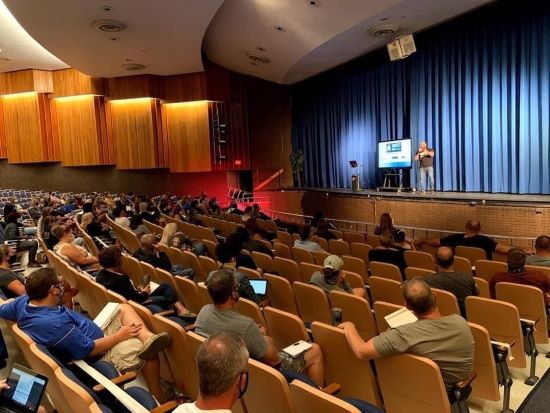 As Mercyhurst University prepares for the first day of classes Aug. 25, all full-time faculty will participate in training offered by OpenedEyes, a 501(c)(3) organization that educates groups in the areas of self-development, diversity, and inclusion.
"We're really excited about bringing in these experts to help provide some education and guidance in our faculty-wide social justice journey toward creating a culturally responsive pedagogy," said Dr. Averill Earls, director of the university's Center for Teaching Excellence (CTE). 
The three-hour training happens on Thursday, Aug. 19, as part of the annual Faculty Development Days (Aug. 18-19).  Earls said the training will center on Cross-Cultural Competency, Critical Race Theory, Mindfulness, and Implicit/Explicit Bias.
Interim Vice President for Academic Affairs Dr. Joanne McGurk, noted, "The Sisters of Mercy, the founders of Mercyhurst University, have among their five critical concerns, for which they pray and work, four that address the condition of fellow human beings.  The university embraces those concerns for the poor, immigrants, women, and those exposed to racism and violence. In addition, we support the self-study of the faculty to pay attention to the personal, communal, and institutional practices that can contribute to the end of human suffering through embracing diversity, equity, inclusion, and justice (DIEJ)."
During the past year, Mercyhurst offered a number of DIEJ learning opportunities, Earls said. Among them were: 
A seminar on "Diversity, Equity, and Inclusion" 
Several faculty groups took advantage of the Office of Mission Integration's DIEJ Grants and produced projects supporting the university's anti-racism and social justice mission. 
The OneBook initiative over winter break 2020-21 brought together faculty, staff, and students to discuss So You Want to Talk About Race. 
The CTE offered several sessions dedicated to social justice issues, like one on Recognizing Microaggressions, and another on Pronouns for Inclusivity. 
"All of those initiatives were effectively self-selective – the folks who had the time and bandwidth showed up and participated," Earls said. "The training with OpenedEyes is the first all-faculty training in these issues, and because it is part of our Faculty Development Days, it means the message and training will reach more people than any of our previous efforts."
OpenedEyes was designed to help others create a positive identity founded on a holistic diversity perspective, explained Brandon Wiley, founder and executive director. "Our program emphasizes an educational model — designed for adults — encompassing a multiracial/multicultural phenomenon by being asked the question, "What are you?"  
"The goal of this training is to dive deeper into conversations and guided reflection to expand our knowledge and awareness to be better stewards to the student body, community, and fellow staff and faculty members," he said. 
Earls credited members of the Faculty Development Committee (Dr. Adam Saeler, Dr. Maria Beatriz Torres, Solveig Santillano, Trish Mahoney, Jodi Staniunas Hopper, and Dr. Amy Parente) for preparing the proposal to offer the training during Faculty Development Days, upon which Faculty Senate voted unanimously to support. 
PHOTO: OpenedEyes founder Brandon Wiley leads training session.