Nurse celebrates superheroes of pediatric COVID-19 vaccine trials
Tuesday, May 10, 2022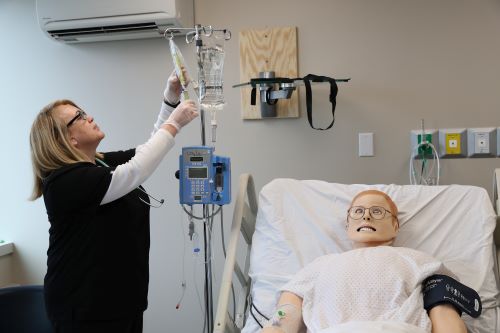 EDITOR'S NOTE: National Nurses Week is May 6-12.
Amy Dunn, RN, knows a little something about superheroes. Oh, not the kind that wear capes and perform grandiose feats of strength and agility. No, these superheroes are kids, ages 5-11, who have volunteered for the Pfizer-BioNTech Pediatric COVID-19 Vaccine Trials.
Since mid-2021, Dunn has been involved in administering the clinical trials, which are designed to investigate the safety, immunogenicity, and efficacy of the Pfizer vaccine for young children. She works with Square 1 Clinical Research, which is a team of doctors and nurses who conduct clinical research studies in the Erie region. The collaboration of Square 1 and Allegheny Health Network has resulted in several pediatric research studies conducted at Allegheny Health & Wellness Pavilion West.
Besides working full time, Dunn is enrolled in the RN to BSN (Bachelor of Science in Nursing) program at Mercyhurst University. 
It's not the easiest task to administer shots and take blood from children, but Dunn has a way of putting the humanity in what might otherwise seem coldly scientific. "We tell the kids that they are being superheroes—that they have a chance to protect other children and help make the world a better place," she said.
For Dunn, who has held numerous positions as a registered nurse since graduating in 1993 from the former St. Vincent's School of Nursing, hands-on patient care is what she finds most rewarding. "Whether I'm holding the hand of a child in the study or holding the hand of someone on their death bed in the hospital, that's what it's all about for me," she said.
Dunn's nursing career started in local hospitals, working in cardiac-neuro intensive care for 23 years and, later, doing clinical trials for eight years. During that time, more and more RNs were returning to school for their bachelor's degrees.
"I wasn't about to miss my kids' games," said Dunn, balking at the idea of taking time away from her soccer mom duties. But, once she became an empty nester, she knew the time was right. 
Despite being middle-aged, she said going back to school at this time in her life has produced many rewards, not the least of which is bringing a vast body of experience to the classroom. As a Mercyhurst student, she even joined the university's COVID-19 team to help with contact tracing and follow-up with students presenting symptoms. 
"I love being an adult learner—things that we study in class, like how to process information, collaborate, problem-solve—I've done that every day for years," she said. "But, too, stepping outside your comfort zone, you learn so much more."
PHOTO: Amy Dunn, RN, tends to a patient in one of Mercyhurst University's new high-fidelity sim labs at the Sisters of Mercy Motherhouse.