New tradition takes hold: Mercy March for Anti-racism
Thursday, September 16, 2021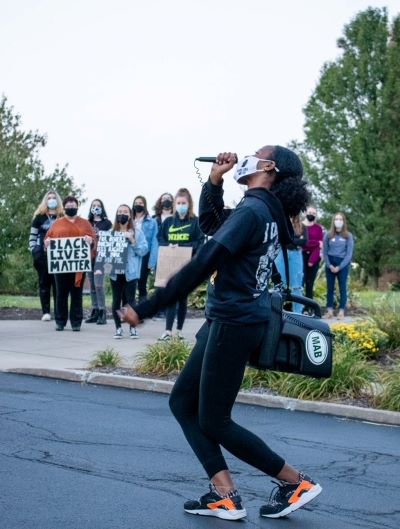 In Mercyhurst University's ongoing efforts to build a more anti-racist campus and society, the college community is invited to participate in a "Mercy March for Anti-racism" on Monday, Sept. 20, beginning at 7 p.m. in front of Old Main.
The march, which builds on last year's "Mercy March for Black Lives," is to become an annual tradition that will carry forward many themes of racial justice while expanding to include groups like Asian Americans and Pacific Islanders, said Vice President for Mission Dr. Greg Baker.
"We continue to follow the lead of the Sisters of Mercy in making the work of anti-racism a priority," Baker said. "I think an occasional march like this is so important. Not only does it gather people to energize, educate, and build solidarity, but the actual physical act of marching reminds us that this is work that must continually and intentionally keep individuals and institutions moving forward – one step at a time – toward more inclusive, equal, and just practices."
Meanwhile, Baker credited the following individuals for their role in organizing the upcoming march: Jessica Hubert, multicultural and inclusion coordinator; Michelle Scully, campus minister; and senior Janiece Withers, president of Black Students for Unity, who led last year's march, which came on the heels of the George Floyd killing and other high-profile incidents that ignited widespread racial tensions.
"We didn't want last year's march to be a one-time reactionary thing," said Withers. "We want to make sure that students of color can feel comfortable expressing their feelings about what is going on in this world and see a community that supports them."
By the same token, she said, she envisions the march as an annual opportunity to highlight the university's ongoing work in diversity, equity, inclusion, and justice, and to enlighten the larger college community on racism in all its many, often subtle, forms.
The march will begin in front of Old Main with remarks by President Kathleen Getz. From there, Withers will lead the entourage to various spots around campus where students will share their thoughts through poems, brief monologues, and educational messages on subjects such as microaggressions.
"We want everyone to walk away with a new understanding – a little knowledge can help us all improve," Withers said.
For those who cannot attend the march or want more information, the Multicultural Student Services page is continually updated with resources supporting Mercyhurst's anti-racism effort, noted the university's new multicultural and inclusion coordinator Jessica Hubert.
FILE PHOTO: Janiece Withers leads 2020 "Mercy March for Black Lives."