Networking event becomes Mercyhurst Ed. Dept. tradition
Thursday, February 14, 2019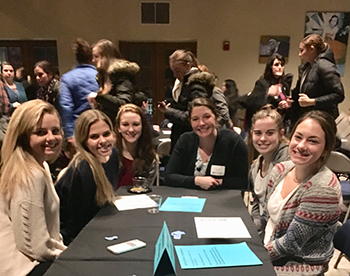 When they say it's all a matter of perspective, Kelly Karns can relate. In fact, she draws on her experiences as a former Mercyhurst University student, part-time education professor, and member of the Alumni Board to organize what has become a special tradition: The Education Student/Alumni Networking Night.
As many as 90 attendees have registered to attend the third annual networking event on Wednesday, Feb. 20, at 6 p.m. in The Waterford Room of Ryan Hall. That nearly doubles first-year numbers, which were around 50.
For students, said the 2006 Mercyhurst grad, the evening is an opportunity to meet with a large group of area teachers, all of whom received their degrees from Mercyhurst.
"Our students get a lot of field work, but this event puts them in the same room with many teachers whose experiences they can learn from," Karns said. At last count, 62 students and 26 teachers had registered to attend.
As a member of the university's Alumni Board, Karns said she wanted to create an event of mutual benefit for students and education alumni seeking to reconnect with Mercyhurst.
The student benefit was obvious. The more surprising, yet rewarding, aspect was the engagement among alumni. Not only were these teachers able to share their experiences and best practices with students, but they also enjoyed thoughtful discussions with a diverse set of colleagues, all of whom had a foundation at Mercyhurst.
As many as 10 tables are set up in room where students and alumni can explore topics of interest. One table might discuss "classroom management" while another might delve into "lesson planning" or "writing an IEP." Every 15 minutes students have the opportunity to move to another table, or to stay right where they are.
"The students and alumni get to discuss topics that they are comfortable with in a casual setting," Karns said. "It's a win-win for everybody."
For more information about the networking event, contact Karns at kkarns@mercyhurst.edu.