Mitchell Marsh parlays COVID-dashed plans into big win for Mercyhurst
Thursday, April 01, 2021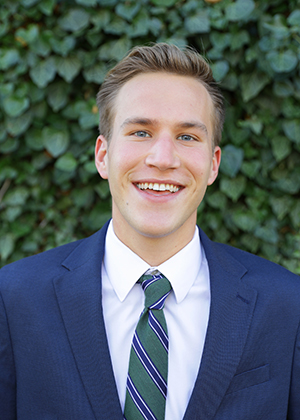 Last year, then-Mercyhurst University senior Mitchell Marsh of Bemus Point, New York, was set to graduate with a bachelor's degree in Hospitality Management & Marketing and depart for Louisville, Kentucky, where he had accepted a management-training position at a premier resort.
In came COVID. Out went the job.
As fate would have it, his alma mater was in the market for an annual giving coordinator.  Being a former Mercyhurst Ambassador, Frank Barry Leadership Award recipient, and member of the university's Student Comm Team, Marsh's commitment to and passion for Mercyhurst preceded his job application, and he was hired.
What no one could anticipate at the time was that Marsh – in only eight months on the job – would go on to set a fundraising record in leading the university's seventh annual Giving Day Campaign, which was held March 30. In all, 604 donors contributed $71,355, topping the previous record set in 2018 and exceeding this year's goal by 40%. An anonymous match of $55,000 and another $5,000 gift brought this year's total to more than $130,000.
"Mitch did an amazing job and he deserves the recognition," said Vice President and Chief Information Officer Jeanette Britt. "He is a prime example of the kind of graduate Mercyhurst produces."
For many of the country's 2020 graduates, and even the Class of 2021, COVID has taken a toll on future plans, especially career goals. But just as uncertainty became the buzzword for the Class of 2020's lexicon, so did resiliency.
Upon hearing that his career plans had been sideswiped by the pandemic, Marsh admittedly was disappointed, but understood that many of his classmates were facing the same situation. The irony of landing back at Mercyhurst last August, he said, is that his master plan had been to go into higher education at some point, and even make his way back to Mercyhurst. "I always figured I would return," he said, "I just didn't figure it would happen so soon."
Refusing to take credit for this year's Giving Day success, Marsh said he had a remarkable team that was able to generate ideas that coalesced in "an exciting way." Besides Jeanette Britt, he thanked colleagues Lindsay Frank and Meaghan Hubert, along with Susan Reddinger, Matt Wise, Matt Sanfilippo, Betsy Frank, and Megan Young.
"We wanted Giving Day to be like Hurst Day with university-wide participation and excitement," Marsh said. "We targeted our alumni in a whole different way, sharing our student stories with them so they could see how Giving Day benefitted them. And we did a hype video that generated enthusiasm." And dollars – it would seem.
"We really tried to be sensitive to the fact that we were still in the midst of a pandemic, and we stressed that every amount helped," he added. "We are just so grateful to all our donors for their support."
Asked what lessons he learned from living through the pandemic, Marsh stressed resilience. "You can set your goals and work toward them, but what Mercyhurst and the pandemic taught me is that you need to be ready to pivot quickly and to use your skill sets to make the best of life's circumstances," he said.