MIAC to launch free virtual programming in Fall 2020
Wednesday, August 26, 2020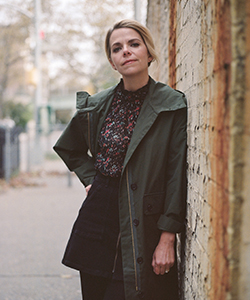 Experience the powerful voice of one of Africa's most acclaimed performers, the warmth of an Irish Christmas, and more from the comfort of home, thanks to the Mercyhurst Institute for Arts & Culture's Fall 2020 lineup of virtual programming.
With the 2020-21 MIAC Live season set to kick off March 2, 2021, this robust program schedule of recorded and live performances from diverse, engaging artists promises to keep audiences engaged throughout the fall season.
"We look forward to the day when audiences can safely return to our performance venues," said Brett D. Johnson, Ph.D., MIAC artistic director. "Until then, we're excited to offer these opportunities for our patrons and community to experience the uplifting spirit of the performing arts through these exceptionally produced virtual events."
All five performances are free and accessible for anyone from anywhere, ready for audiences to enjoy from home.
"The performers we've lined up are truly original artists, each widely sought after for the power and beauty of their shows," Johnson said. "We expect their performances will translate well to the virtual stage, and provide much-needed enjoyment for individuals and families."
All virtual programming is free. Virtual performances will be broadcast via Zoom. Registration is required, and attendance will be limited to 500 registrants. For more information, and to register, please visit the MIAC website.
MIAC Fall 2020 Virtual Programming
Aoife O'Donovan
Thursday, Sept. 10, at 7:30 p.m.
Recognized for her ethereal voice and substantive songwriting, Aoife O'Donovan is also known for her collaborations. Called "a vocalist of unerring instinct" by the New York Times, O'Donovan is one of the most sought-after vocalists and songwriters of her generation, and her career has allowed her to collaborate with some of the most eminent names in music across a wide variety of genres. Co-founder of the bands Crooked Still and I'm With Her, O'Donovan is the featured vocalist on The Goat Rodeo Sessions, the Grammy-winning album by Yo-Yo Ma, Stuart Duncan, Edgar Meyer, and Chris Thile. O'Donovan also sings in the house band on the radio variety show Live From Here.
Angélique Kidjo: Artist as Activist: A Passion for Freedom and Social Justice
Sunday, Oct. 11, 2 p.m.
Three-time Grammy Award-winning singer, activist, and humanitarian Angélique Kidjo is one of the greatest artists in international music today. A creative force with 14 albums to her name, she has been called "Africa's premier diva" by Time and was named one of The Guardian's 100 most inspiring women in the world. With the strength of her voice and the power of her words, Kidjo creates music that transcends every language and connects the entire world. Celebrating her exceptional courage in standing up to injustice and improving the world through art, Kidjo was awarded the prestigious Crystal Award by the World Economic Forum in Davos and the "Ambassador of Conscience Award" by Amnesty International. In "Artist as Activist: A Passion for Freedom and Social Justice," Kidjo discusses the responsibility of artists to use their platform for social justice, the many ways in which we can all give back, and the enormous impact each of us can make in the world.
Melissa Errico
Wednesday, Oct. 28, 7:30 p.m.
"The Maria Callas of American musical theater," as Opera News has called her, referencing both her crystalline voice and dramatic, expressive intensity, Melissa Errico is an actress, singer, and author. First known for her starring roles on Broadway, her latest album, Sondheim Sublime, was called by The Wall Street Journal "The best all-Sondheim album ever recorded." However, nothing in her work has been more constant than her association with Michel Legrand. Having starred in his sole Broadway show, Amour, she went on to collaborate with him on the iconic album Legrand Affair. After his death in 2019, she was asked to write his eulogy by The New York Times, where she is a frequent contributor, and was then invited to become the sole American performer to participate in the extraordinary two-day memorial to Legrand held in April at Paris' Le Grand Rex Theatre.
Natalie MacMaster & Donnell Leahy present A Celtic Family Christmas
Thursday, Dec. 3, 7:30 p.m.
Internationally acclaimed award-winning musicians Natalie MacMaster and Donnell Leahy and their seven children are opening their doors and inviting audiences to be a part of their holiday celebration. It's an unforgettable evening of music, dance, and storytelling, as well as a window into the world of this talented family. The MacMaster-Leahy family will perform traditional carols and original music, including a few special numbers with their stellar band, featuring Mac Morin on piano, Mark Kelso on drums, Remi Arsenault on bass, and Elmer Ferrer on guitar. A Celtic Family Christmas is sure to put audiences in the holiday spirit!
PHOTO: Aoife O'Donovan