MIAC announces world-class performers for Spring 2021 virtual series
Tuesday, January 19, 2021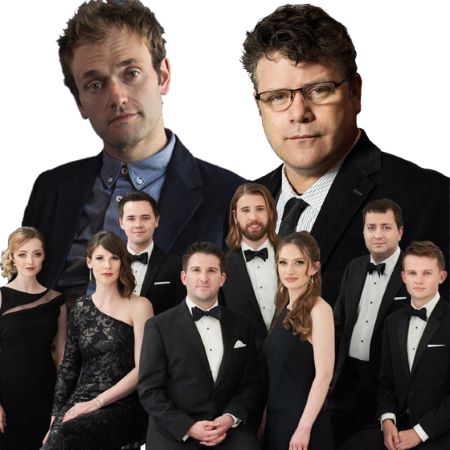 Although the performances in the 2020-21 MIAC Live season have been rescheduled to later in the year, audiences will not be without world-class performing arts experiences this spring.
Following the success of the Fall 2020 virtual events, the Mercyhurst Institute for Arts & Culture will present an international a cappella sensation, an icon of American film, and one of today's most versatile virtuosos in the Spring 2021 virtual programming series.
British vocal ensemble VOCES8 will kick off the series with a virtual performance on Wednesday, Feb. 10. Actor, director, and producer Sean Astin, known for roles in the Lord of the Rings trilogy, Rudy, and The Goonies, to name a few, follows with an event on Thursday, March 11. The series concludes with mandolin virtuoso and radio personality Chris Thile on Wednesday, April 7. 
"Audiences responded very enthusiastically to our virtual programming in the fall, and we know everyone is eager for safe and accessible ways to experience the arts during a challenging time," said Brett D. Johnson, Ph.D., MIAC artistic director. "This spring, we're pleased to offer these celebrated and familiar artists and performers, whose warm expressions and insights will be welcome presences in audiences' homes."
All virtual programming is free. Virtual performances will be broadcast via Zoom. Registration is required, and attendance will be limited to 500 registrants. For more information, and to register, please visit the MIAC website.
With the ongoing COVID-19 restrictions on gatherings and events, the 2020-21 MIAC Live performances could not be held as originally scheduled. Fortunately, almost all of the performances have been rescheduled for later in the summer. Given the difficulties of international travel, the concerts by Irish ensemble Danú and British gospel group The Kingdom Choir have been canceled. 
"We've all had to be adaptable and resilient in the face of this pandemic, and the health and safety of our audiences and campus are top priority," Johnson said. "As we diligently follow state and local COVID guidelines, we also look forward to the day when we can gather and share these vibrant artistic experiences together."
The revised MIAC Live lineup is as follows: 
MIKE SUPER 2.OH! 
Wednesday, June 16, at 7:30 p.m. | Mary D'Angelo Performing Arts Center
BRIAN STOKES MITCHELL
Friday, July 9, at 7:30 p.m. | Mary D'Angelo Performing Arts Center
MATTHEW MORRISON
Thursday, July 22, at 7:30 p.m. | Mary D'Angelo Performing Arts Center
MIAC Live tickets will go on sale Monday, May 3, and can be purchased online via the MIAC website, by phone at 814-824-3000, or at the box office in the Mary D'Angelo Performing Arts Center. Ticket prices for the MIAC Live performances remain unchanged. 
In addition, The Summer Soirée, open to patrons of The 501, MIAC's membership society, has been rescheduled to Saturday, Aug. 7. As part of the exclusive event, Tony Award-winning Broadway legend Betty Buckley will present intimate, cabaret-style performances at 6:30 and 9 p.m. For more information about The 501, visit the 501 webpage or call 814-824-2663.
MIAC Spring 2021 Virtual Programming
VOCES8
Wednesday, Feb. 10, at 7:30 p.m.
Andrea Haines, soprano
Eleonore Cockerham, soprano
Katie Jeffries-Harris, alto
Barnaby Smith, alto and artistic director
Blake Morgan, tenor
Euan Williamson, tenor
Christopher Moore, baritone
Jonathan Pacey, bass
 
The British vocal ensemble VOCES8 is proud to inspire people through music and share the joy of singing. Touring globally, the group performs an extensive repertory both in its a cappella concerts and in collaborations with leading orchestras, conductors, and soloists. Versatility and a celebration of diverse musical expression are central to the ensemble's performance and education ethos.
 
"The singing of VOCES8 is impeccable in its quality of tone and balance. They bring a new dimension to the word 'ensemble' with meticulous timing and tuning." – Gramophone Magazine
Sean Astin
Thursday, March 11, at 7:30 p.m.
Sean Astin is an American actor, director, voice artist, and producer, best known for his film roles as Samwise Gamgee in the Lord of the Rings trilogy, Mikey Walsh in The Goonies, the title character in Rudy, and Bob Newby in Stranger Things. He is also the author of the New York Times best-seller There and Back Again, a memoir — co-written with Joe Layden — of his film career with emphasis on his experiences with the Lord of the Rings trilogy.
 
Son of Academy Award-winning actress Patty Duke and acclaimed actor John Astin, he scored a career defining, triumphant success in the inspirational and universally applauded college football biopic Rudy, about the life-changing struggles and rewards of the title character, Daniel Ruettiger. In the early 2000s, he experienced another career breakthrough with his role as Samwise Gamgee in Peter Jackson's Lord of the Rings film trilogy. Along with the many awards bestowed upon the trilogy – 11 Academy Awards, including Best Picture – Astin received nominations for his own performance. He took home the Saturn Award for Best Supporting Actor and awards from the Las Vegas Film Critics Society, the Seattle Film Critics, the Utah Film Critics Association, and the Phoenix Film Critics Society. 
 
Astin has served on the board of several non-profit organizations, including the National Center for Family Literacy. A vocal advocate for literacy, mental health awareness, and civic engagement, Astin is an energetic, passionate speaker who promotes a culture of volunteerism to all audiences.
Chris Thile
Wednesday, April 7, at 7:30 p.m.
Multiple Grammy Award-winner and MacArthur Fellow Chris Thile, a member of Punch Brothers and Nickel Creek, and now the host of the radio program, Live from Here, is a mandolin virtuoso, composer and vocalist. With his broad outlook, Thile transcends the borders of conventionally circumscribed genres, creating a distinctly American canon and a new musical aesthetic for performers and audiences alike.
 
A child prodigy, Thile first rose to fame as a member of Grammy Award-winning trio Nickel Creek, with whom he released four albums and sold over two million records. In 2014, along with a national tour, the trio released a new album, A Dotted Line, their first since 2005.
 
As a soloist, Thile has released several albums including his most recent, Thanks for Listening, a collection of recordings, produced by Thomas Bartlett, originally written as Songs of the Week for Live from Here. In February 2013, Thile won a Grammy for his work on The Goat Rodeo Sessions, collaborating with Yo-Yo Ma, Edgar Meyer, and Stuart Duncan. In September 2014, Thile and Meyer released their latest album collaboration, Bass + Mandolin, which won the Grammy for Best Contemporary Instrumental Album. Punch Brothers released their latest album, the Grammy-winning All Ashore, in July 2018 with Pop Matters describing the album as "a call to savor, to pay attention, to step back from the hustle and bustle and remember the importance of being calm."