MIAC announces return of live events with limited-capacity summer season
Thursday, April 29, 2021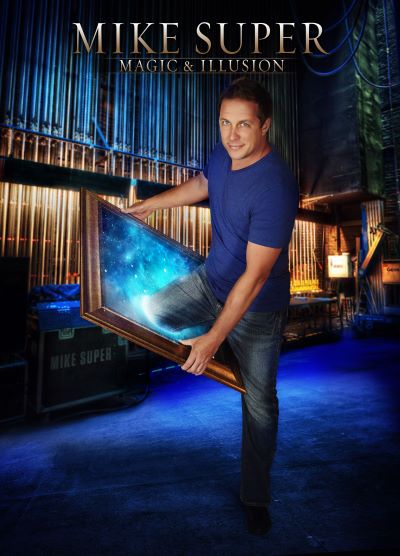 For the first time in over a year, the doors to the Mary D'Angelo Performing Arts Center will open, patrons will take their seats, the house lights will dim, and the spotlight will shine.
The Mercyhurst Institute for Arts & Culture has announced that its popular MIAC Live series will return this summer with an uplifting series of family-friendly performances.
"Livestreamed performances and other virtual offerings have played an important role in helping us navigate the complexities of the past year," said MIAC Artistic Director Brett D. Johnson, Ph.D. "At the same time, many of us have missed the communal nature of live performance, in which our heartbeats synchronize and we laugh, cheer, and cry as one. We look forward to gathering once again in the beautiful Mary D'Angelo Performing Arts Center and experiencing the life-affirming artistry of these world-class performers."
The summer season will commence on Wednesday, June 16, when illusionist and audience favorite Mike Super returns to Mercyhurst for an all-new show of jaw-dropping magic.
Super has astonished millions of people with his craft. His ever-growing popularity has garnered many prestigious awards and honors, including the distinction of being the only magician in history to win a live magic competition on primetime U.S. network television. His other accomplishments include being named Entertainer of the Year, Best Performing Artist of the Year, Best Novelty Performer of the Year, and America's Favorite Mystifier on NBC's hit TV show Phenomenon. His appeal to both young and old has made him one of the most sought-after mystifiers in the world.
On Sunday, July 11, one of Broadway's most acclaimed leading men, Brian Stokes Mitchell, will captivate both longtime fans and newcomers alike with a concert of standards from the American songbook. [Note: This concert was originally scheduled for Wednesday, April 1, 2020. Any tickets purchased for the earlier date will be honored.]
Dubbed "the last leading man" by the New York Times, two-time Tony Award-winner Brian Stokes Mitchell has enjoyed a career that spans Broadway, television, film, and concert appearances. He received Tony, Drama Desk, and Outer Critics Circle awards for his star turn in Kiss Me, Kate, and was Tony-nominated for his performances in Man of La Mancha, King Hedley II, and Ragtime. Other notable Broadway performances include Kiss of the Spider Woman, Jelly's Last Jam, Women on the Verge of a Nervous Breakdown, and Shuffle Along. An extremely versatile singer, Stokes has performed at venues spanning jazz, opera, pops, country, and the musical theatre world, including two performances at the White House.
On Thursday, July 22, Emmy, Tony, and Golden Globe nominated star Matthew Morrison will make his Erie debut.
Matthew Morrison is perhaps best known for portraying Will Schuester on Fox's hit musical series Glee, but it was his previous Broadway credits that led him to the McKinley High School Glee Club. Morrison made his Broadway debut in Footloose and appeared in The Rocky Horror Show before originating the roles of Link Larkin in Hairspray, Fabrizio Nacarelli in The Light in the Piazza (Tony Award nomination), and Lieutenant Cable in the Lincoln Center Theater revival of South Pacific. Most recently, he created the role of J.M. Barrie in the new Broadway musical Finding Neverland. His television appearances include roles on The Good Wife, Grey's Anatomy, and American Horror Story: 1984.
The summer season will conclude on Saturday, Aug. 7, with a concert by legendary leading lady Betty Buckley.
Dubbed "The Voice of Broadway," Betty Buckley helped to revolutionize modern musical theatre through her acclaimed performances in 1776, Pippin, Song and Dance, The Mystery of Edwin Drood, Carrie, and Triumph of Love (Tony nomination). She won a Tony for her performance as Grizabella in Andrew Lloyd Webber's Cats and received an Olivier nomination for her critically acclaimed interpretation of Norma Desmond in the London production of Webber's Sunset Boulevard, which she repeated to more rave reviews on Broadway. Her extensive screen credits include starring roles in Split (Saturn Award nomination), Tender Mercies, Preacher, and four seasons as Abby Bradford in the hit series Eight is Enough.
Amid the ongoing effects of the COVID-19 pandemic, MIAC continues to prioritize the health and well-being of its patrons, artists, staff, and community. For more information about the Institute's COVID-19 policies, visit the MIAC website.
MORE INFORMATION
Tickets for Mike Super will go on sale Tuesday, May 25, at 12 p.m.
Tickets for Brian Stokes Mitchell will go on sale Tuesday, June 22, at 12 p.m.
Tickets for Matthew Morrison will go on sale Tuesday, June 29, at 12 p.m.
Tickets for Betty Buckley will go on sale Tuesday, July 13, at 12 p.m.
Tickets can be purchased online via the MIAC website or by phone at 814-824-3000. The box office will be open Tuesday-Thursday, 12-5 p.m.
MIKE SUPER MAGIC & ILLUSION 2.OH! 
Wednesday, June 16 @ 7:30 p.m.
Mary D'Angelo Performing Arts Center
BRIAN STOKES MITCHELL
Sunday, July 11 @ 3 p.m. & 7:30 p.m.
Mary D'Angelo Performing Arts Center
MATTHEW MORRISON
Thursday, July 22 @ 7:30 p.m.
Mary D'Angelo Performing Arts Center
BETTY BUCKLEY
Saturday, Aug. 7 @ 5:30 p.m. & 8 p.m.
Mary D'Angelo Performing Arts Center