Mercyhurst's Mitchell Marsh wins 'College Campus Champ' award
Thursday, November 21, 2019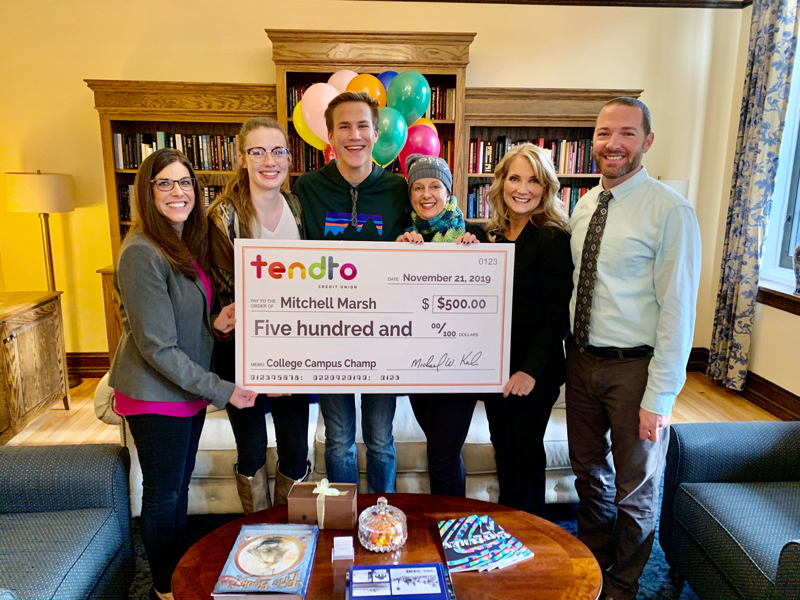 In a scene reminiscent of the Publishers Clearing House Sweepstakes, the Happi927-Tendto Credit Union Prize Patrol arrived at Mercyhurst University on Thursday to surprise senior Mitchell Marsh with its "College Campus Champ" award.
The entourage from Happi and Tendto caught up with "Mitch" in the Department of Marketing & Public Relations, where he has been a student worker since his sophomore year. Cheering co-workers and friends were there to celebrate as the Prize Patrol presented Mitch with a certificate of honor and a $500 check from Tendto.
"I am really appreciative of the recognition, especially to be honored as a college student in Erie County known for his involvement across the campus community," said Mitch, who added that as chair of the Senior Gift Committee, he will donate a portion of the award to the Class of 2020 Mike Folga Legacy Scholarship.
Meanwhile, every fall and spring, Tendto collaborates with Happi927 to honor a student who best epitomizes the role of college champion. In Mitch's case, the Hospitality and Marketing double major has distinguished himself academically and professionally. Following an internship last summer at the Omni Louisville Hotel, he was offered a career position upon graduation in May. He was also named a Statler Foundation Scholar of Excellence, one of only 12 throughout the country.
Mitch's commitment to the university runs deep. In his marketing role, he assists with bolstering the university's robust social media platform; he is also a university Ambassador and an RA for students of the Autism Initiative at Mercyhurst. 
In nominating Mitch, Dionne Veitch, executive director of marketing & brand management, said, "Mitch is not only a talented and hardworking student; he is kind and hospitable to everyone he encounters."
PHOTO: (L-R) Pam Palotas (Tendto), Leena Clint, Mitchell Marsh, Shari McBride (Happi927), Dionne Veitch, and Christian Beyer.