Mercyhurst wins NWPA Beehive Showcase with crowdsourcing app
Thursday, April 28, 2022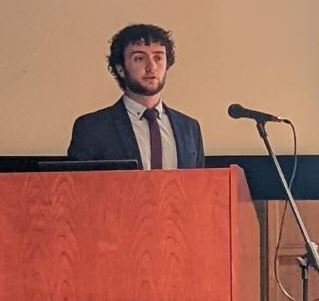 Mercyhurst University has won the 8th Annual Collegiate Innovation Beehive Showcase with its presentation of a proposed crowdsourcing app called "Crowdin." 
Junior Brentyn Muir, a data science/intelligence studies major from Australia, shared details of the app's design and function at the April 25 Showcase, joining other finalists from the Northwest Pennsylvania Innovation Beehive Network. The beehive includes Mercyhurst, Edinboro, Gannon, and Penn State Behrend universities, and the Erie County Library. The five partners collaborate to encourage entrepreneurial and business development and expansion throughout northwest Pennsylvania.
Muir's presentation can be seen approximately 56:16 minutes in on this video, with the winners announced at the end. Contest winners receive an assortment of prizes, including assistance in the areas of technology, financial consulting, and legal guidance to bring the product to market. In addition, the grand prize winner receives $1,000.
"Trying to solve the bias and agenda problem in the mass media system is an exceptionally complex issue and winning the 8th Annual Collegiate Innovation Beehive Showcase is the first step in that particularly tall staircase," Muir said, adding that "Crowdin will be the platform for accessing democratized news. By leveraging crowdsourcing for a firehose of information, the Crowdin platform will provide tidbits like Twitter and reports like Reuters."
The Mercyhurst team was advised by faculty Brian Sheridan, assistant professor of Communications, and Rajkamal Kesharwani, assistant professor of Business Analytics. Representing Mercyhurst on this year's organizing committee for the competition were Brian Fuller, director of operations for the Ridge College of Intelligence Studies & Applied Sciences, and Abbey Lesniewski, assistant director of the university's Innovation Entente Lab.
Muir thanked all those involved for their support and said he looks forward to moving ahead with the app's development. "It feels great to start fleshing out the business plan for Crowdin and I look forward to leveraging each member of the NWPA Innovation Beehive Network to help achieve Crowdin's goals."
PHOTO: Brentyn Muir
NOTE: Video courtesy of Community Access Media