Mercyhurst Trustees, students regroup after two-year hiatus
Friday, May 13, 2022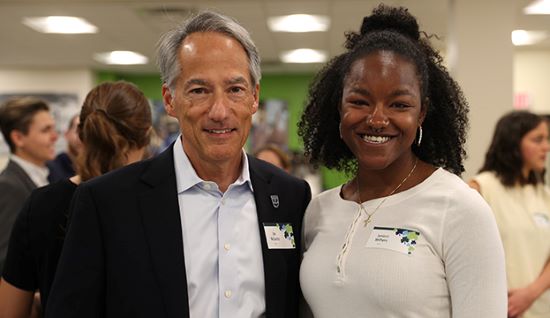 It's been two years since Mercyhurst University Trustees have had an actual sit-down with students, a practice that the university promotes at least once annually.
"The Student Life Committee of the board believes strongly in having the opportunity to liaise with students, to hear what is on their minds, and to learn more about their Mercyhurst experience, but because of COVID-19, that hasn't happened for two years," said Student Life Vice President Dr. Laura Zirkle.
Zirkle, Trustee Lev Kubiak '88, chair of the Student Life Committee, and Sarah Allen, assistant vice president for student life, organized a Student Leadership Lunch with key university administrators and approximately 12 trustees on Friday, May 13, at noon in Grotto Commons. Among the 17 students were outgoing and incoming Mercyhurst Student Government presidents, Nicholas Brodfuehrer and Lily Smith, respectively.
This weekend promises to be extremely busy for the Mercyhurst community as it marks Commencement 2022 and the Board of Trustees quarterly meeting. The traditional commencement will celebrate 652 students, among them 548 baccalaureate degree recipients and 104 associate degree candidates. The ceremony takes place at 1 p.m. in the Erie Insurance Arena on Sunday, May 15. Meanwhile, the evening of Friday, May 13, will see 213 master's degree candidates graduate at the Mary D'Angelo Performing Arts Center at 7 p.m.
PHOTO: Mercyhurst Board Chair Joe NeCastro chats with graduating senior Janiece Withers.