Mercyhurst Theatre Program presents audio drama of holiday classic
Tuesday, November 17, 2020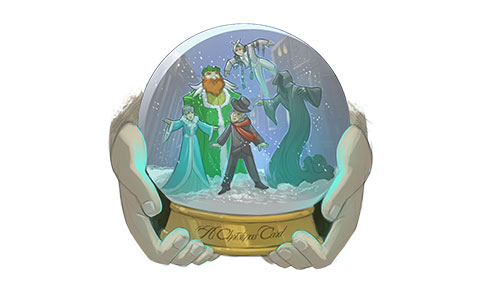 The Mercyhurst Theatre Program continues its 2020-21 season with A Dickens of a Carol, an audio drama adapted from Charles Dickens' holiday classic by award-winning playwright and historian Mary Barile.
Taking a cue from Dickens' hugely popular public readings of A Christmas Carol, Barile adds a unique framing device to the familiar tale. It is Christmas Eve 1843, and Dickens invites Thomas Mitton, his dear friend and solicitor to whom he eventually bequeathed the original manuscript of A Christmas Carol, over to celebrate the successful publication of the book. Dickens implores Mitton to stay and read the story aloud because his family is tired of hearing it. They begin reading, and the characters come to life as never before!
"The parallels that can be drawn between Charles Dickens' time and today – plague, poverty, greed, despair – remind us how much we all need a story of hope and kindness," notes Barile. "Adapting A Christmas Carol as an audio drama was a chance to share the tale's loving spirit with people around the world. It was a pleasure and an honor, and may it light our way into the new year."
The project, helmed by Mercyhurst alumna Bethany Sulecki, was rehearsed and recorded virtually in accordance with the university's COVID-19 policies. (The release date is Monday, Dec. 7, and a link to obtain access will be made available shortly.)
"Artists are accustomed to adapting to new circumstances, and creating theatre during a pandemic is no exception," says Sulecki. "We rose to the challenge of presenting A Dickens of a Carol as an audio drama this year, bringing together a cast of more than 40 current students, alumni, and guest artists from Pennsylvania, Ohio, New York, Virginia, Texas, and even Galway, Ireland. Rehearsing virtually proves that we don't necessarily have to be in the same room to create something special, learn from each other, and collaborate."
The cast of A Dickens of a Carol includes Tori Altsman, Kristian Biega, Katelynn Bizzaro, Arianna Clouse, Chelsee Cool, Jennie Cross, Nina Diplacido, Colin Domowicz, Michelle Enterline, Ali Forsythe, Dominic Fortunato, Lilli Gene Gall, Veronica Guerini, Rosie Hitt, Rebecca Holt, Jillian Johannes, Dr. Brett D. Johnson, Tyler Kirchmeir, Grace Knopfel, Sarah Krempasky, Abby Larimore, Tonya Lenhart, Cole Lowe, Taylor Mantsch, Miranda Mong, Ashleigh Morrison, Eli Nuen, Dr. Doug Powers, Jon Reddinger, Braden Rosciszewski, Jenna Rosciszewski, Michael Rowe, Ella Santillano, Tessa Sayre, Caroline Schroer, Jake Shearer, Elizabeth Shewan, Grace Sloop, Jacob Tretinik, Ben Vacca, Bradley Ward, Abby Whitman, Ally Williams, and Nick Woll.