Mercyhurst takes multi-pronged stand against human trafficking
Thursday, September 23, 2021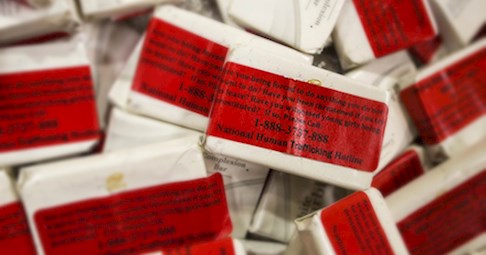 Anyone who has seen the movie Taken with Liam Neeson remembers the terrifying moment when his daughter is kidnapped, and the chilling monologue he delivers:
"I don't know who you are. I don't know what you want. If you are looking for ransom, I can tell you I don't have money. But what I do have is a very particular set of skills, skills that I have acquired over a very long career, skills that make me a nightmare for people like you. If you let my daughter go now, that'll be the end of it. I will not look for you. I will not pursue you. But if you don't, I will look for you, I will find you, and I will kill you."
Most incidents of human trafficking are not as blatant, and most don't end quite as well as they do in the movie Taken. As a form of modern-day slavery, traffickers use force, fraud, or coercion to control victims for the purpose of forced labor or sexual services against their will. Often, it's a painstakingly slow, furtive exercise.
"Many times, it's a matter of patiently grooming someone over the internet," said Deb Davies, assistant professor of Intelligence Studies at Mercyhurst University and a former CIA operations officer. "During COVID, grooming potential victims didn't slow down, but increased virtually. So many people were at home on their electronic devices as perpetrators were actively pursuing their next victims and searching for vulnerabilities of those they met virtually.  Is a potential victim miserable at home? Do they need money? Are their parents too strict? The perpetrators listened and then slowly started filling those needs."  
For several years, Mercyhurst has been at the front lines of various pursuits to understand and fight the prolific social problem. The university offers courses on human trafficking; maintains a student club that (1) Analyzes human trafficking issues as projects for NGOs, and (2) Operates programs to build awareness; and coordinates a communitywide organization, the Anti-Human Trafficking Coalition Force, designed to connect local groups working in the field toward a collective approach in combatting the crisis.  Davies oversees both the coalition, which includes 150 community members, and the club, which has more than 60 student members. 
Some of the latest developments include:
THE SOAP PROJECT
Members of the Student Anti-Human Trafficking Club recently received training from community coalition members to participate in the SOAP Project, which stands for Save Our Adolescents from Prostitution. According to the SOAP website, the organization was founded by Theresa Flores, an author, advocate, and trafficking survivor. She recalls from experience that the only time she would ever be alone while being trafficked was in a motel bathroom. SOAP partners with local organizations to distribute millions of bars of soap wrapped with a red band printed with the National Human Trafficking Hotline number: 1 (888) 373-7888. Trained volunteers deliver the soap to high-risk motels and offer training to staff on how to spot the signs of human trafficking. 
211 SERVICE
In 2000, the Federal Communications Commission designated 211 as the 3-digit number for information and referrals to social services and other assistance.  The 211 service is provided by more than 200 local organizations that are committed to serving their communities. In Erie, that organization is the United Way. Davies said the coalition is actively working with the agency to include human trafficking responses that will allow any person to call a number that is easy to remember and takes the guess work out of "who can I call?" 
HIGH SCHOOL AWARENESS PILOT PROJECT
Mercyhurst students are rolling out a pilot program to bring the message of human trafficking to high school students, a demographic falling within the average age range of today's victims, that being 11 to 16. "Our model is to have a peer-to-peer conversation between Mercyhurst students and high school students, allowing for transparency and real-life discussion about using apps and other online features that could inadvertently open them up to predators," Davies said. The Mercyhurst students are collaborating with state troopers who founded "Character: Be About It," a program that trains law enforcement officers to teach young people essential character traits that help them navigate the challenges of life.
THE EXODUS ROAD
While one part of the Student Anti-Human Trafficking Club is operations-oriented, another is analysis-centered and its members are largely intelligence studies majors. They use their skills to produce analytic products for NGOs working in the field of anti-human trafficking. One longstanding relationship is with "The Exodus Road."  In two recent projects, student intel analysts evaluated the scope of human trafficking operations within Brazil and Columbia, identifying traffickers' recruitment methods, routes taken to transport victims, organized crime elements, and more.
For more information on the anti-human trafficking groups at Mercyhurst, contact Davies at ddavies@mercyhurst.edu.