Mercyhurst steers crackdown efforts on human trafficking and money laundering
Wednesday, February 12, 2020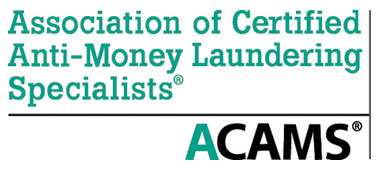 The Ridge College of Intelligence Studies and Applied Sciences at Mercyhurst University continues to evolve into key areas of both regional and national interest with new initiatives in anti-human trafficking and anti-money laundering.
Mercyhurst coordinates the Anti-Human Trafficking Coalition Force, designed to connect local groups working in the field toward a collective approach in combatting the problem. What began last August with 30 members has grown to include more than 150 members today. The university also offers a minor in Anti-Money Laundering and hosts an AML Club advised by Dr. Musa Tuzuner, assistant professor of Intelligence Studies.
Both groups have upcoming events intended to create awareness of these prolific social problems while exploring ways to eradicate them. The events also reveal how human trafficking and money laundering are linked.
"In keeping with the 30-year history of addressing matters of national security, the Department of intelligence Studies in the Ridge College has again evolved as threats to our safety change," said Mercyhurst Provost Leanne Roberts. "We are fortunate to have experts among our faculty leading the field in the often-interconnected areas of money laundering and human trafficking. Our students will enter the field prepared to make much-needed contributions to these rapidly emerging threats to our society." 
Currently, there are more than 40.3 million global victims of human trafficking, according to the FATF Report Financial Flows from Human Trafficking, with criminal proceeds reaching $150 billion in 2018. Perpetrators of human trafficking must transform their financial proceeds into legitimate funds through money laundering.
On Thursday, Feb. 20, the coalition will meet at 9 a.m. in Room 300 of the Center for Academic Engagement. Coalition Coordinator Deborah Davies, an instructor of Intelligence Studies and a former CIA strategist, said the meeting will focus on some proposed "way-forward" solutions to several key issues presented by Coalition members in 2019, with presentations from Mercyhurst University faculty and students.
On Thursday, Feb. 27, the university will host a free, public session on Money Laundering & Human Trafficking at 4 p.m. in the Mary D'Angelo Performing Arts Center. The university is partnering with the Pittsburgh chapter of the Association of Certified Anti-Money Laundering Specialists on the presentation, which will also include refreshments and networking opportunities.
Speakers include Bryan Chapman of PNC in Pittsburgh, Anti-Human Trafficking Coalition Force Coordinator Deborah Davies, and Betsy Wiest, social justice coordinator for the Sisters of St. Joseph.
Student Rebekah Prather, co-founder and president of Mercyhurst's AML Club, said the program should appeal to individuals and groups interested in learning more about money laundering and human trafficking, be they representatives of the banking industry, academia, social service agencies, government, law enforcement as well as students and members of the general public.