Mercyhurst slates new tradition of monthly 'Readings at the Roost'
Thursday, August 22, 2019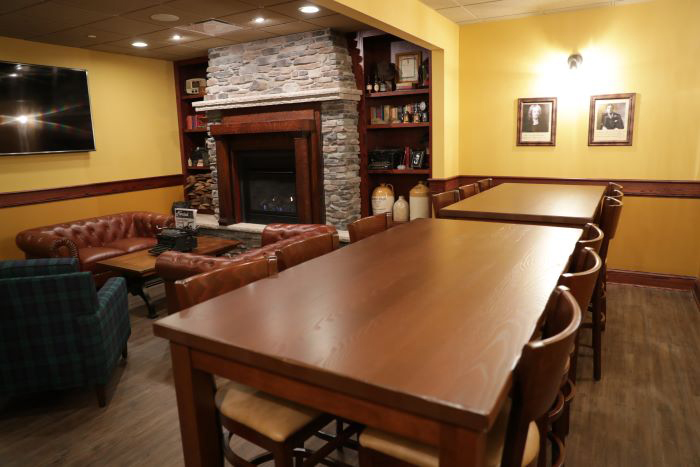 The Mercyhurst Institute for Arts & Culture will celebrate the university's Irish heritage in a new series called Readings at the Roost. Designed to capture the spirit of wintertime gatherings in rambling houses, where Irish people congregated for gossip, storytelling, song and dance as a means of passing the long nights, Readings at The Roost will feature readings of classic literature by Mercyhurst employees, students and special guests, music, lively conversation, and fare in a comfortable setting.
The series will debut Monday, Sept. 9, at 7 p.m. with a concert reading of John Millington Synge's one-act tragedy Riders to the Sea. Held on the second Monday of each month, the readings will take place in the Playwright's Snug, a cozy fireside nook located in The Roost, Mercyhurst's authentic Irish pub that opened its doors in March.
With stage direction from Associate Professor of Religious Studies Dr. Richard McCarty, a cast of five will read the tale of a forlorn family's hopeless struggle with the sea that has claimed the lives of numerous family members. Dr. Heidi Hosey, interim dean, Walker College of Business, will play Maurya and headline a cast that includes Mercyhurst alumni Owen Hitt (Bartley), Sarah Krempasky (Cathleen), and Bethany Sulecki (Nora). Assistant professor of English Dr. Joanne McGurk will provide introductory remarks about Synge and the cultural and political landscape of the play.
Mercyhurst President Michael T. Victor said the readings represent a valuable addition to MIAC's already robust roster of events.
"The Institute's new Readings at The Roost series marries the age-old Irish tradition of storytelling with Mercyhurst's commitment to the arts and humanities," Victor said.
Additional fall offerings will include an evening of Irish ghost stories on Monday, Oct. 14, readings from Oscar Wilde on Monday, Nov. 11, and James Joyce's The Dead on Monday, Dec. 9.
All Readings at The Roost events are free and open to the public, but seating is limited. Food and drink will be available for purchase. For more information, contact MIAC Director Dr. Brett Johnson at bjohnson@mercyhurst.edu; 814-824-2663. The Roost is situated in the lower level of the Carolyn Herrmann Student Union.