Mercyhurst slates in-person ceremonies for Commencement Weekend
Tuesday, March 23, 2021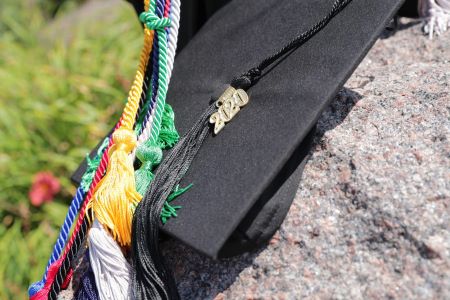 Mercyhurst has announced plans for Commencement Weekend, May 15-16, that will feature four separate in-person ceremonies to celebrate the accomplishments of the university's graduates while abiding by state and local COVID-19 guidelines.
Members of the Class of 2021 will receive their diplomas on Sunday, May 16, at the Erie Insurance Arena. The exercises will be held at 9 a.m. for the Hafenmaier College of Humanities, Arts & Social Sciences and the Walker College of Business; 1 p. m. for the Ridge College of Intelligence Studies & Applied Sciences; and 5 p.m. for the Zurn College of Natural & Health Sciences. Each graduate will be permitted two guests.
Graduates of the Class of 2020 will be honored during a ceremony on Saturday, May 15, at 1 p.m., also at Erie Insurance Arena. They, too, can request two guest tickets.
Masks and social distancing are required, the latter being the rationale for scheduling three events on Sunday. According to the Erie Insurance Arena, with participants and guests spaced at six feet apart, the entire arena will have to be used to seat everyone safely.
Family and friends not able to attend in person will be able to watch any of the ceremonies via livestream, and should refer to the commencement website for more information as plans are finalized.
From the beginning of its planning process, Mercyhurst intended to fete its 2020 graduates who wanted to return for an in-person commencement ceremony.
"That was always a given," said Director of Alumni Engagement Lindsay Frank. "We realize that many of our 2020 graduates are working or continuing their educations and can't return. But, the pandemic robbed them of the opportunity to celebrate this milestone together so we wanted to do whatever we could to make it happen for them."
Of the 2020 graduating class, 262 are attending in person, and 108 will participate virtually in Saturday's ceremony.
The Class of 2021 celebrates the accomplishments of 784 students, including master's, bachelor's and associate degree seekers. Approximately 669 students have registered to participate in the in-person exercises.