Mercyhurst preserves spiritual traditions, welcomes new, despite COVID-19
Friday, August 14, 2020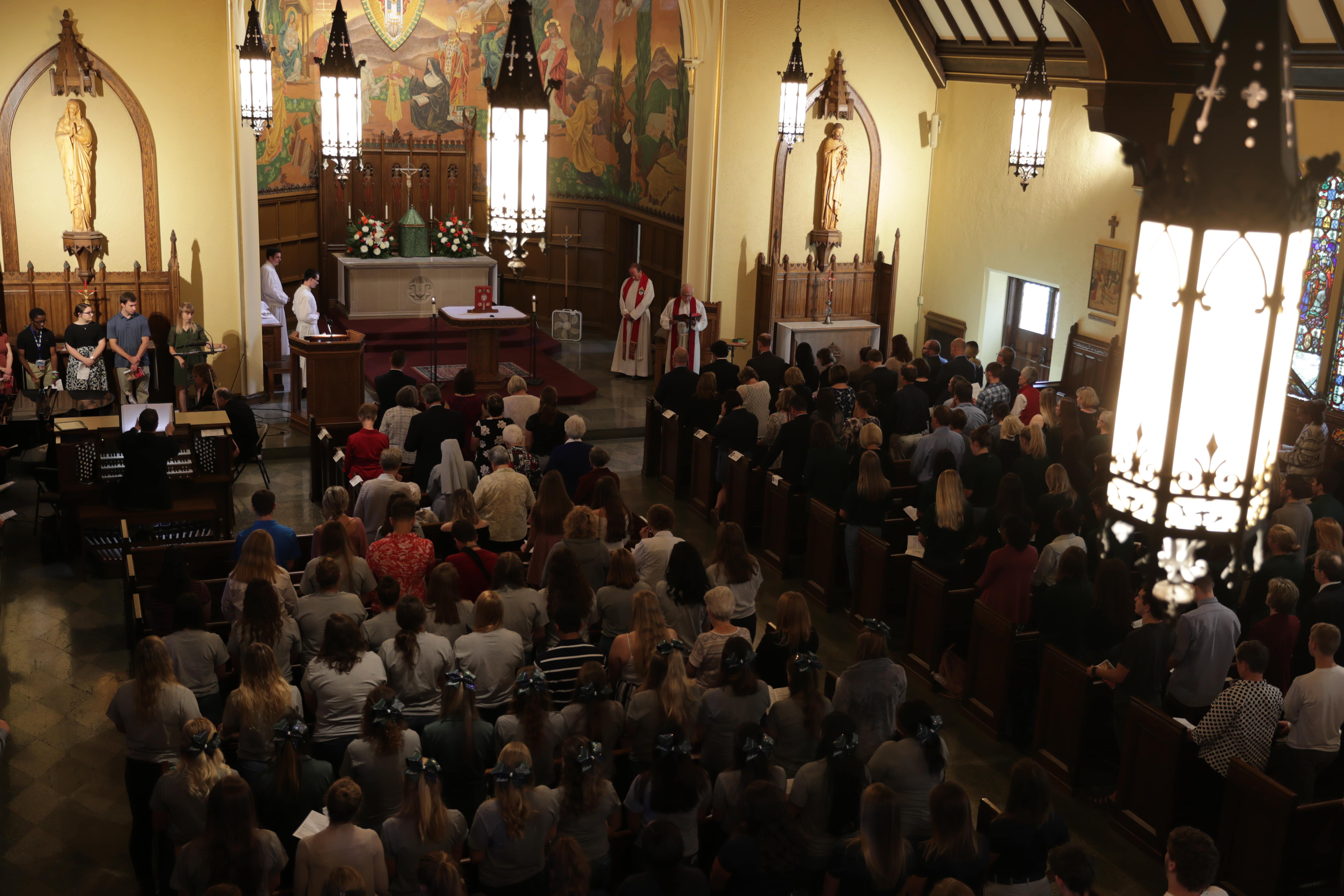 Despite the shadow of COVID-19, Mercyhurst University is recreating many of its treasured traditions for fall 2020, particularly those of a spiritual nature.
The traditional spiritual opening of the academic year, the Mass of the Holy Spirit, will be conducted in Christ the King Chapel and live-streamed to watch groups across campus. The Rev. Fr. Chris Singer will preside at the 4 p.m. celebration on Sept. 24, which is also Mercy Day and a time to honor our founding Sisters of Mercy.
Going forward, daily and Sunday masses in the chapel will follow diocesan protocols and adhere to social distancing practices.
Meanwhile, the Day of Service tradition, which enlists all new students in service projects countywide, will be done virtually this year on Tuesday, Aug. 18. Working in small groups, one contingent of students will develop video welcomes for students at Diehl School, where Mercyhurst is the lead community partner. They'll create skits, cheers, songs … all designed to make the start of the children's school year a little more festive.
The other student groups will develop a campaign, again producing videos and other creative materials, to encourage citizens to participate in the census, particularly timely as the Sept. 30 deadline nears.
The university's Campus Ministry program hasn't missed a beat since the pandemic hit, continuing to hold weekly fellowships, meetings, pastoral counseling sessions – all in a virtual format.
Particularly noteworthy this year is that Mercyhurst will launch the first alumni cohort of its popular Mercy Emissary Program, which was started by Sister Lisa Mary McCartney, RSM, in 2015 and is now overseen by Dr. Greg Baker, vice president for mission. 
With fewer Sisters at Mercyhurst than there once were, the Mercy Emissaries have seized the opportunity to preserve the Mercy mission. They do so by volunteering at community events, planning retreats and prayer meetings, establishing ongoing programs to promote understanding of the Mercy charism, and organizing welcome receptions for new U.S. citizens following naturalization ceremonies in the surrounding Erie community, to name a few recent activities. 
Since its debut, about 180 individuals have completed the program. The 2019-20 year welcomed its first cohort of Mercyhurst students, and the 2020-2021 year will accept its first alumni group. 
FILE PHOTO: Mass of the Holy Spirit, Christ the King Chapel, 2019