Mercyhurst offers 'one last visit' to St. Mary's Chapel
Wednesday, June 02, 2021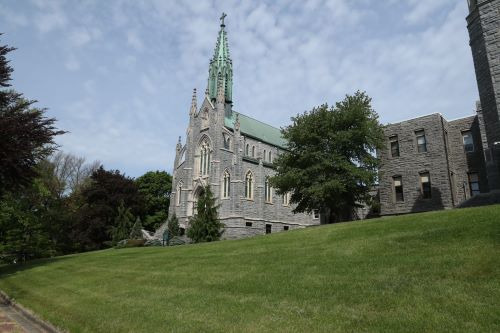 The anticipated sale of Mercyhurst North East's 84-acre campus has rekindled memories for many people, particularly local residents and alumni of the Redemptorist seminary that was situated there prior to university ownership. 
Of special interest is St. Mary's Chapel, a historic landmark and prominent feature in the greater North East community.
"There remains strong interest from members of the North East community and alumni of St. Mary's Seminary to visit this chapel one last time before work is done this summer," said Mercyhurst University Vice President for Mission Dr. Greg Baker. "The university will open Miller and Karsh Halls and the St. Mary's and St. Elizabeth's chapels for an additional and final open house on Saturday, June 5, from noon to 5 p.m."
In addition to honoring the request for "one last visit," Baker said he wants to put to rest inaccurate information being circulated and clarify plans for the chapel's future. 
First, he noted, Canon Law dictates that a chapel no longer used for Catholic worship must be relegated to general public use, or "deconsecrated." This formal process took place on Thursday, May 20, at which time the public was invited to a special worship service and luncheon. 
With that completed, the university is now obligated to remove many sacred objects within St. Mary's Chapel, along with the smaller St. Elizabeth's Chapel in Karsh Hall. Objects such as altars, ambos, statues, pews, stained glass, and other religious artifacts will be removed and managed by A. J. Merhaut, Inc. of Pittsburgh, a religious goods company that will repurpose the items for use in other Catholic chapels.
Baker said the work will not affect the structural façade of the outside of the building, including the historic spire. "Many people have been especially concerned about the stained-glass windows," he said. "The large side windows and sanctuary windows with religious figures on them will be removed, while many smaller windows and the rear window above the choir loft will remain."
A.J. Merhaut, Inc. is working with a buyer from the Atlanta area, King Richard's Liturgical Design and Contracting, to remove and repurpose the windows, altars, and some of the pews. 
"While these for-profit companies do their work with respect as they service church building and renovation projects, Mercyhurst University is not engaged in this process for monetary reasons, but rather, out of respect for church law and proper management of sacred objects," Baker explained. "After properly replacing many window openings with clear glass storm windows, the university anticipates losing money on the overall project." 
Work is expected to begin June 7.