Mercyhurst offers many ways to give this holiday season
Tuesday, November 16, 2021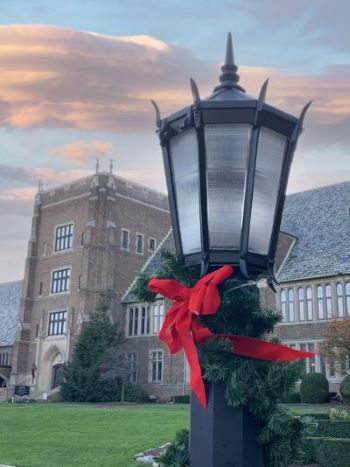 As the Christmas holiday nears, there's no shortage of giving opportunities at Mercyhurst, so take your pick. 
The Mercy Emissaries are holding their annual Christmas Gift Drive for the Mercy Center for Women Nov. 16 -Dec. 10. You can drop off gifts for the women and/or for their children, unwrapped, in the barrel near the President's Office on first floor of Old Main. Please see our gift suggestions list. If you prefer to donate gift cards, you may leave those with Stacey Wiley in the President's Office.  
Kappa Delta Pi, Mercyhurst's education honor society, is collecting new winter hats, gloves, and warm socks for the families at our Community School, Diehl Elementary. This collection ends Friday, Nov. 19. Items can be dropped off in a box outside Hirt 300A. Email Amy Bauschard with questions. 
Mercyhurst's chapter of Alpha Phi Sigma, the national honor society for criminal justice students, is coordinating with the Erie City Mission on a donation drive for the holidays. Needed items include individually wrapped snacks like chips, candy or chocolate; water; rice; pancake mix; boxed cereal; granola bars; pop tarts; boxed mac and cheese; syrup; creamer; coffee; paper plates; plastic utensils (spoons, forks, knives); paper towels; napkins; toilet paper; and diapers (any and all sizes). Donations can be dropped off at Dr. Adam Saeler's office (Preston 120), or in the box just outside of his office. 
You can also receive Mercyhurst's 2021 Christmas Ornament with your contribution of $25 or more to the Mercyhurst Annual Fund & Student Scholarship Program. This year's keepsake highlights Mercyhurst's Irish heritage with a shamrock-shaped ornament that features Mercyhurst hand-engraved on slate that is reminiscent of the Old Main slate roof. For more information, email Mitchell Marsh.
Please consider donating as we venture into the holiday season.