Mercyhurst launches new master's degree in athletic training
Thursday, April 08, 2021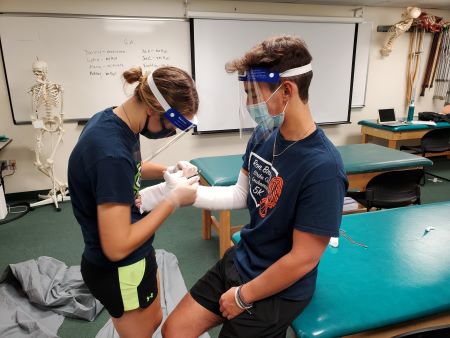 Mercyhurst University is taking its athletic training program to the next level.
Anchored in the Mercyhurst tradition of excellence, the new Master of Science in Athletic Training program combines foundational knowledge with contemporary, evidence-based practices to mold future health care leaders. 
"Our focus is on the patient as an individual rather than something written in a textbook," said Josh Long, M.S., ATC, CSCS, CES, director of the athletic training program. "We have a hands-on application of fundamental knowledge and take an individualistic and holistic approach to treatment rather than following a script."
Mercyhurst previously offered bachelor's program in athletic training. The bump from the undergraduate level to the graduate level comes as a result of a change from the Commission on Accreditation of Athletic Training Education (CAATE) that requires all athletic training programs across the country to transition to at least an entry-level master's program. 
"While the master's is new, athletic training education has been at Mercyhurst since 1985, making it one of the oldest and most prominent in the country," Long said.
The new 62-credit master's program starts in the summer semester, and will continue Mercyhurst's success in preparing future athletic trainers for the challenges they will face in their careers. The current athletic training undergraduate program is accredited by the Commission for the Accreditation of Athletic Training Education (CAATE), and the process is started on transitional approval for the master's program.
"Mercyhurst's athletic training undergraduate program has long held a strong reputation for academic excellence. The decision to offer a Master of Science degree is a reflection of the university's commitment to excellence, guaranteeing that Mercyhurst students continue to receive the highest level of training necessary to thrive the field of athletic training," said John Olszowka, Ph.D., associate provost for Graduate Programming and Strategic Initiatives. 
"The new program is also further evidence of the university's desire to grow graduate programs in competitive fields, offered at affordable rates, in order to position Mercyhurst students for future professional success," he added. 
All students in this program will participate in clinical placements, which include trauma hospitals, family medicine practices, orthopedics, emergency medical services, prosthetics and orthotics, performing arts, and outpatient physical therapy/rehabilitation, as well as Mercyhurst's 25 varsity athletics teams.
With the introduction of this new master's program also come plans to renovate classroom and lab facilities on campus for athletic training students. The program is based in newly renovated sports medicine-specific classroom spaces, including two clinical classrooms and one lecture classroom, and also features improved treatment tables and elevated ceilings for optimal space and training.
Also, a benefit to students is Mercyhurst's athletic training alumni network, composed of hundreds of graduates throughout the United States and around the world. 
Travis Lindahl, director of graduate and professional admissions at Mercyhurst University, expects strong interest from a variety of students.
"We anticipate applicants coming from our own undergraduate programs as well as students at other colleges in sports medicine, exercise science, and pre-health career majors. There may even be current trainers looking to upgrade their skills or round out their resumes," he said.
Students can apply for summer 2021 entry into the Master of Science in Athletic Training program via the Admissions Portal. More information about the athletic training master's can be found on the program webpage or by contacting Josh Long at jlong2@mercyhurst.edu or 814-824-2403.