Mercyhurst launches new Bachelor of Science in Nursing
Tuesday, May 31, 2022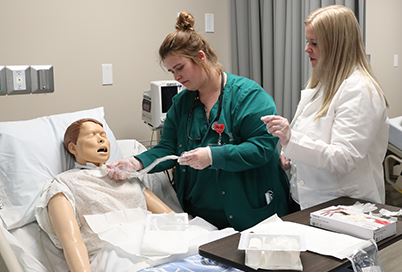 With nursing one of the fastest growing occupations in the U.S., Mercyhurst University offers multiple pathways to meet the demand, today announcing its newest: a four-year Bachelor of Science in Nursing.
This expansion of Mercyhurst's nursing and allied health portfolio continues the university's 50-year nursing education legacy. 
Starting Fall Semester 2022, the new BSN program will provide the latest in curricular innovations, an outstanding lineup of clinical opportunities, and a home in the university's newly renovated nursing facility, positioning Mercyhurst students for success in the rapidly growing job market. 
According to the Bureau of Labor Statistics' Employment Projections, Registered Nursing (RN) is listed among the top occupations in terms of job growth through 2029. The RN workforce is expected to grow from 3 million in 2019 to 3.3 million in 2029, an increase of 221,900 or 7 percent. 
Several factors contribute to this increased demand—made more dire by repeated surges of COVID-19—among them expanded responsibilities, healthcare reform, and the aging population.
The program is the latest addition to a multiyear plan designed to strengthen and expand many of the university's health care programs. As part of the consolidation of its North East campus with the Erie campus, Mercyhurst has relocated all of its nursing and allied health programs to the Erie campus. Students now have the option to enroll in either a two-year associate degree nursing program and then an RN-to-BSN completion program, or enroll directly in the four-year BSN program, affording them the opportunity to get a more traditional college experience including participation in NCAA athletics. 
"Mercyhurst is committed to helping students achieve their goals of becoming exceptional health care professionals, and this newest program is consistent with our Mercy vision of integrating excellence in the liberal arts, professional and career-path programs, and service to regional and world communities," said Dionne Veitch, vice president for enrollment. "We're thrilled to be able to offer so many educational opportunities for prospective nursing students from a practical nursing certificate to an MSN in Integrative Nursing Leadership, and now a traditional four-year BSN program."
Check out the latest information on our new BSN program.