Mercyhurst joins Sisters of Mercy in movement to 'Save the Monarch'
Monday, September 09, 2019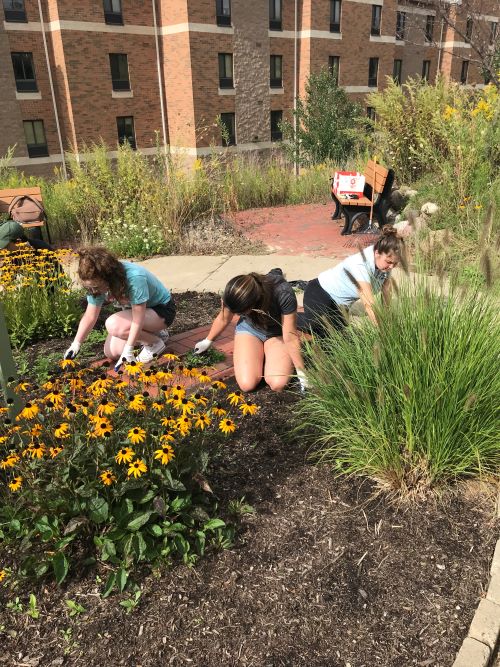 Across the country, momentum is building around a movement to "Save the Monarch." From the U.S. Fish & Wildlife Service to sustainability bloggers, and now the Sisters of Mercy, it seems advocacy for these endangered butterflies is growing.
With a commitment "to reverence the Earth and work more effectively toward the Sustainability of Life," the Sisters of Mercy have launched the Mercy Monarch Milkweed Project. Their initiative inspired Mercyhurst Biology Department Chair Sarah Bennett and her students to create a monarch butterfly habitat as part of the Sister Maura Smith Peace Garden situated behind Warde Hall. The garden was originally planted with many of Sister Maura's favorite perennials, many of which already attract pollinators.
"When Greg Baker (vice president for mission) sent me the call from the Sisters to increase the monarch habitat I thought it was a great opportunity to revitalize the Sister Maura Smith Peace Garden by creating more habitat for pollinators and increasing education about pollinators. This project will fit well with the university mission while having a positive impact on the environment," Bennett said. 
On Wednesday, Sept. 4, Bennett and students from the Sustainability Club prepped the Peace Garden for planting. This Friday, Sept. 13, they will plant perennials that are good sources of food for pollinators, including monarchs. Later in the fall, they will plant milkweed adjacent to the garden to further help forge a nurturing habitat for the monarchs.
Monarchs cannot survive without milkweed; their caterpillars only eat milkweed plants, and monarch butterflies need milkweed to lay their eggs. For a variety of reasons, herbicides and urban sprawl among them, milkweed is disappearing from the landscape and, with it, the monarch butterfly.
Adult monarchs will drink the nectar of many flowers in addition to milkweed, Bennett said.  Among the perennials planned for the garden are butterfly bush, butterfly weed, wild indigo, and purple cone flower, among others. Additionally, the native hillside planted by the garden already provides excellent foraging grounds for pollinators.
Bennett said her team hopes to include a variety of plants that will flower from spring through autumn to provide continuous nutrition for pollinators and continuous beauty to the garden.
Drs. Chris Magoc, Mike Campbell, Chris Dolanc, and Melissa Heerboth have been instrumental in pushing this project forward.
Bennett said that she registered Mercyhurst's garden with the Mercy Monarch Milkweed Project and received signage from Mercy Ecology Inc. to place in the garden. She further intends to develop the site with informational signs to continue the educational aspects of the garden.
For more information, contact Bennett at 814-824-3611; sbennett@mercyhurst.edu.