Mercyhurst Institute for Arts & Culture announces upcoming season
Thursday, July 23, 2020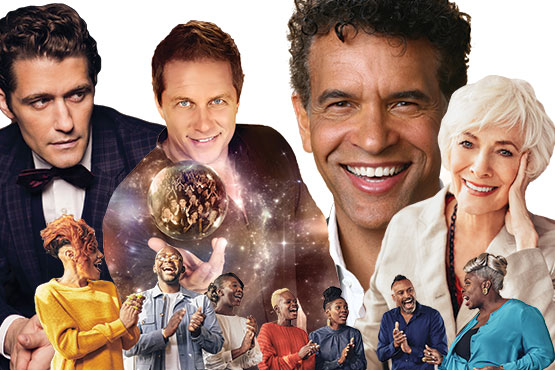 With most live arts programming on hold due to COVID-19, the Mercyhurst Institute for Arts & Culture (MIAC) plans to help fill the gap by offering free virtual programming this fall while it prepares to launch its popular MIAC Live series in March 2021.
"Perhaps now more than ever, the coronavirus pandemic has reminded us of the importance of creative expression and performance, and the need for these artistic connections in our lives," said Brett D. Johnson, Ph.D., MIAC artistic director.
MIAC is developing a diverse lineup of online programming, including live concerts, theatre, and other curated content that audiences can experience from the comfort of home — free of charge. Online programming is scheduled to begin in September, with additional details to be announced closer to performance dates.
At the same time, Johnson announced that an abbreviated MIAC Live season will begin Tuesday, March 2, when Celtic ensemble Danú (at right) returns to the Mary D'Angelo Performing Arts Center. "We eagerly anticipate the return of vibrant cultural experiences to our stages," he added.
Hailing from historic County Waterford, Danú is one of the leading traditional Irish ensembles of today. Their standing-room-only concerts feature high-energy performances and a glorious mix of ancient Irish music and new repertoire. Winners of numerous awards from the BBC and Irish Music Magazine, Danú has toured throughout Europe, the Middle East, and North America with stops at The Hollywood Bowl in Los Angeles and Symphony Space in New York City. Danú takes its audiences on a musical journey to their native Ireland, offering a moving and memorable concert experience. 
On Friday, March 19, illusionist and audience favorite Mike Super will present an all-new, family-friendly show that is certain to delight and dazzle Erie audiences.
Super has astonished millions of people with his craft. His ever-growing popularity has garnered many prestigious awards and honors, including the distinction of being the only magician in history to win a live magic competition on primetime U.S. network television. His other accomplishments include being named Entertainer of the Year, Best Performing Artist of the Year, Best Novelty Performer of the Year, and America's Favorite Mystifier on NBC's hit TV show Phenomenon. His appeal to both young and old has made him one of the most sought-after mystifiers in the world.
The season will continue Thursday, April 8, with gospel sensation The Kingdom Choir.
The choir is best known for its show-stopping performance at the royal wedding of Prince Harry and Meghan Markle. The group's performance of "Stand by Me," seen by a global audience of more than two billion, instantly catapulted the choir to worldwide fame. Founded in 1994 by award-winning conductor Karen Gibson, the choir draws from various Christian traditions and is dedicated to creating a sound that reflects the community they share through their warm energy and enthusiastic performances. 
On Thursday, April 22, one of Broadway's most accomplished leading men, Brian Stokes Mitchell, will captivate both longtime fans and newcomers alike with a concert of standards from the American songbook. [Note: This concert was originally scheduled for Wednesday, April 1, 2020. Any tickets purchased for the earlier date will be honored.] 
Mitchell has enjoyed a career that spans Broadway, television, film, and concert appearances with the country's finest conductors and orchestras. He earned Tony, Drama Desk, and Outer Critics Circle awards for his star turn in Kiss Me, Kate, and received nominations for his performances in Man of La Mancha, August Wilson's King Hedley II, and Ragtime. In 2016, he was awarded his second Tony Award, the prestigious Isabelle Stevenson Tony, for his charitable work with The Actors Fund. 
The MIAC Live season will conclude on Saturday, May 8, with a special concert by song-and-dance man Matthew Morrison.
Morrison is a versatile actor who is recognized for his work on stage and screen. His big break came when he was cast as heartthrob Link Larkin in the hit Broadway musical Hairspray. Other Broadway credits include a Tony-nominated role in The Light in the Piazza, South Pacific, and Finding Neverland (Drama Desk nomination). In 2015, Morrison wrapped up the final season of Fox's musical comedy series Glee, in which he starred as glee club director Will Schuester. Other television appearances include The Good Wife, Grey's Anatomy, and American Horror Story: 1984.
"As in past seasons, we expect many of the shows to sell out quickly," said Johnson. "Patrons can gain early access – and support our mission of strengthening the vibrancy of the Erie region by presenting world-class performing arts experiences – by joining The 501."
THE 501
The 501, now in its fourth season, is a membership society for patrons who wish to enhance their performing arts experience while also supporting the arts at Mercyhurst.
Members enjoy exclusive benefits, including premium seats at star-studded performances; access to exclusive pre-show receptions; an invitation to The 501 Virtual Gala on Saturday, Sept. 26, 2020; and tickets for The Spring Soirée on Saturday, June 5, 2021, which will include a cocktail reception and an intimate, cabaret-style performance by Tony Award-winning Broadway legend Betty Buckley.
Memberships are available now and will be processed in the order in which they are received. For more information about The 501, visit the 501 webpage or call 814-824-2663.
SEASON SUBSCRIPTIONS
Due to the abbreviated nature of the 2020-21 MIAC Live season, the Institute will not offer season subscriptions this year. Packages will go on sale for the 2021-22 season in summer 2021.   
MORE INFORMATION
Single tickets go on sale Monday, Jan. 4, and can be purchased online via the MIAC website, by phone at 814-824-3000, or at the box office in the Mary D'Angelo Performing Arts Center. The box office will be open Monday through Friday from noon to 5 p.m.
DANÚ
Tuesday, March 2 @ 7:30 p.m.
Mary D'Angelo Performing Arts Center
MIKE SUPER 2.OH! 
Friday, March 19 @ 7:30 p.m.
Mary D'Angelo Performing Arts Center
THE KINGDOM CHOIR
Thursday, April 8 @ 7:30 p.m.
Mary D'Angelo Performing Arts Center
BRIAN STOKES MITCHELL
Thursday, April 22 @ 7:30 p.m.
Mary D'Angelo Performing Arts Center
MATTHEW MORRISON
Saturday, May 8 @ 7:30 p.m.
Mary D'Angelo Performing Arts Center