Mercyhurst Institute for Arts & Culture announces 25th anniversary season
Thursday, June 03, 2021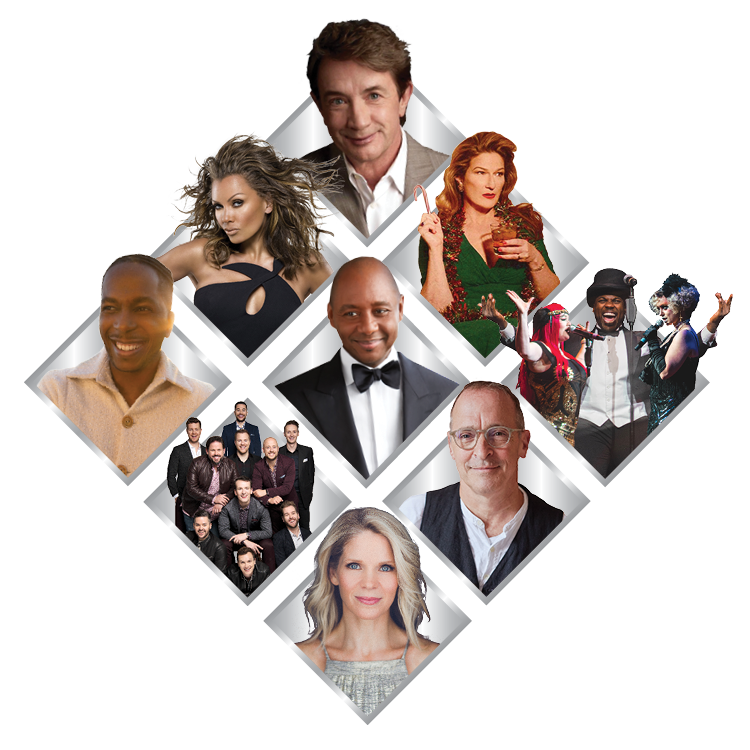 The Mercyhurst Institute for Arts & Culture celebrates the 25th anniversary of the Mary D'Angelo Performing Arts Center with a spectacular lineup of legendary entertainers, musical icons, and audience favorites.
"For more than a quarter of a century, the Mary D'Angelo Performing Arts Center, widely heralded across the tri-state area as an unrivaled performance venue, has hosted some of the world's finest artists," said MIAC Artistic Director Brett D. Johnson, Ph.D. "Our 2021-22 season is no exception. We've assembled a dynamic roster of world-renowned performers whose talents are perfectly suited to our beautiful venue and whose artistry is certain to entertain, inspire, and empower Erie audiences." 
Opening the MIAC Live season on Thursday, Sept. 23, is comic icon Martin Short, who will take the stage for a side-splitting evening of impressions, songs, and sketches.
Short has won accolades in television, film, and theatre since his breakout season on Saturday Night Live over 30 years ago. He made his feature film debut in Three Amigos and followed with Innerspace, Three Fugitives, Clifford, Pure Luck, Mars Attacks, and Father of the Bride. An accomplished stage actor, Short won a Tony, Theatre World Award, and Outer Critics Circle Award for the Broadway revival of Little Me, and was nominated for a Tony and took home an Outer Critics Circle Award for the musical version of Neil Simon's The Goodbye Girl. A two-time Emmy winner, Short's television credits include SCTV, SNL, The Martin Short Show, Primetime Glick, Damages, Hairspray Live!, Maya & Marty, Mulaney, and How I Met Your Mother.
On Friday, Oct. 22, legendary performer Vanessa Williams will enthrall Erie audiences with a concert of Broadway tunes, pop songs, and heartwarming stories.
Williams is one of the most respected and multi-faceted performers in the entertainment industry today. Having sold millions of records worldwide, she has also scored numerous #1 and Top 10 hits on various Billboard album and singles charts. Her critically acclaimed work in film, television, recordings, and the Broadway stage has been recognized by every major industry award affiliate, including 4 Emmy nominations, 11 Grammy nominations, a Tony nomination, 3 SAG award nominations, 7 NAACP Image Awards, and 3 Satellite Awards. Her platinum single "Colors of the Wind," from Disney's Pocahontas, won the Oscar, Grammy, and Golden Globe for Best Original Song. In 2007, she achieved a career pinnacle with a star on the Hollywood Walk of Fame.
Next up is actress, comedienne, and singer Ana Gasteyer, who will kick off the holiday season on Tuesday, Nov. 30, with a whimsically retro concert entitled "Sugar & Booze."
In addition to her celebrated work as a television actor, her six-season run on NBC's Saturday Night Live, and her recent appearance on FOX's reality competition The Masked Singer, Gasteyer has starred in multiple Broadway and televised musicals, including the New York and Chicago companies of Wicked (earning a Jefferson Award nomination for her performance in the latter), the 2006 Broadway revival of The Threepenny Opera, A New Brain at City Center Encores! Off-Center, Annie at The Hollywood Bowl, and Grease Live! and A Christmas Story Live! on FOX. Her new holiday album, Sugar & Booze, is a collection of festive seasonal songs that offers a swinging nod to the vintage holidays of yore with a modern touch and plenty of style. 
The fall season concludes on Monday, Dec. 6, with a concert by multifaceted, award-winning vocalist, songwriter, author, and actor Leslie Odom, Jr.
With a career that spans all performance genres, Odom has received Tony and Grammy Awards as well as Emmy and, most recently, two Academy Award nominations for his achievements in Broadway, television, film, and music. He has released four highly lauded studio albums, including two holiday records and his chart-topping, self-titled debut. He has performed at the White House, Super Bowl, and on hallowed stages such as Lincoln Center, Rockefeller Center, and the Macy's Thanksgiving Day Parade. Best known for his breakout role as Aaron Burr in the smash hit Broadway musical Hamilton, Odom won the Tony Award for Best Actor in a Musical and a Grammy Award as principal soloist on the original cast recording for his performance.
The spring season will kick off on Tuesday, Feb. 1, when legendary saxophonist Branford Marsalis brings his acclaimed jazz quartet to Mercyhurst.
From his early acclaim as a saxophonist bringing new energy and new audiences to jazz, Marsalis has refined and expanded his talents and his horizons as a musician, composer, bandleader, and educator – a 21st century mainstay of artistic excellence. He formed his own quartet in 1986 and, with a few minor interruptions in the early years, has sustained the unit as his primary means of expression. Known for the telepathic communication among its uncommonly consistent personnel, its deep book of original music replete with expressive melodies and provocative forms, and an unrivaled spirit in both live and recorded performances, the Branford Marsalis Quartet has long been recognized as the standard to which other ensembles of its kind must be measured.
On Wednesday, March 16, audience favorite Scott Bradlee's Postmodern Jukebox returns to the Mary D'Angelo Performing Arts Center for "The Grand Reopening Tour."
PMJ is a genre-busting, rotating collective of musicians and vocalists that reimagines modern popular songs in vintage swing and jazz styles. The ensemble traces its roots to 2009, when creator and bandleader Bradlee became a viral pop sensation after creating a series of YouTube videos that reworked 21st century pop hits in a variety of vintage styles – transforming Miley Cyrus' "We Can't Stop" into a '50s doo wop number, giving Macklemore's "Thrift Shop" a '20s jazz accent, and crossing Daft Punk's "Get Lucky" with Irish folk music. Since then, the band has amassed over 1.3 billion YouTube views and 2.4 million Facebook fans and toured the world, playing hundreds of shows to sold-out houses on six continents. 
Two weeks later, on Wednesday, March 30, internationally acclaimed vocal ensemble The Ten Tenors bring their "Love is in the Air" tour to Mercyhurst.
Since being founded in 1995, The Ten Tenors have headlined more than 2,000 concerts around the world, sold more than 3.5 million concert tickets, and become renowned for their dynamic, choreographed performances and skillful ability to seamlessly transition from operatic arias to soulful ballads to chart-topping pop and rock songs. They have shared the stage with artists such as Lionel Richie, Rod Stewart, Andrea Boccelli, Willie Nelson, Alanis Morissette, and Christina Aguilera. The group has released more than 20 albums, most of which have achieved platinum and gold status, including the recent chart-topper, Love is in the Air. 
On Tuesday, April 19, David Sedaris returns to Mercyhurst for an evening of sardonic wit and incisive social critiques.
Sedaris is one of America's pre-eminent humor writers. The great skill with which he slices through cultural euphemisms and political correctness proves that Sedaris is a master of satire and one of the most observant writers addressing the human condition today. Beloved for his personal essays and short stories, Sedaris is the author of Barrel Fever, Holidays on Ice, Naked, Me Talk Pretty One Day, Dress Your Family in Corduroy and Denim, When You Are Engulfed in Flames, Let's Explore Diabetes with Owls, Theft By Finding Diaries (1977-2002), Calypso, and his newest book, The Best of Me. There are over 16 million copies of his books in print, and they have been translated into 32 languages.
Concluding the MIAC Live season on Thursday, May 5, is Tony Award-winning Broadway star Kelli O'Hara.
O'Hara has established herself as one of Broadway's greatest leading ladies. Her portrayal of Anna Leonowens in The King and I garnered her the 2015 Tony Award for Best Leading Actress in a Musical, along with Grammy, Drama League, Outer Critics, and Olivier nominations. Other Broadway credits include Kiss Me Kate, The Bridges of Madison County, Nice Work If You Can Get It, South Pacific, The Pajama Game, The Light in the Piazza, Sweet Smell of Success, Follies, Dracula, and Jekyll & Hyde. Her concerts have gained international acclaim, spanning from Carnegie Hall to Tokyo. She is a frequent performer on PBS's live telecasts and The Kennedy Center Honors and performs often alongside The New York Philharmonic.  
The 2021-22 MIAC Live season is made possible through the generosity of Scott Enterprises, Dr. & Mrs. Robert Guelcher, Aetna, Scott Kern & Amy Cuzzola-Kern, Curtze, Wm. T. Spaeder, Mary Lincoln, Velocity Network, Building Systems Incorporated, Burger King, Gary's Flower Shoppe, Make It Fabulous Catering, Erie Insurance, Humes Chrysler Jeep Dodge & Ram, Dahlkemper's Jewelry, Knox Law Firm, Christian Brothers Services, H. Jack's Plumbing & Heating Co., Weber Murphy Fox, Cheryl Vicary, Cheryl Ward, the Erie County Gaming Revenue Authority, and the Pennsylvania Council on the Arts.
THE 501
The 501 is a membership society for patrons of the arts who wish to enhance their performing arts experience while also supporting the arts at Mercyhurst. Members enjoy exclusive benefits, such as first access to tickets, premium seats at star-studded performances, and an invitation to the 25th anniversary gala on Saturday, June 4, which will include a concert by Pink Martini, featuring China Forbes, followed by a party under the stars.
Through their generosity, 501 members sustain the Mercyhurst Institute for Arts & Culture. One hundred percent of each 501 membership supports the Institute's mission of strengthening the vibrancy of the Erie region through richly varied, inclusive cultural experiences. 
Memberships are available now and will be processed in the order in which they are received. For more information, and to register or renew, visit the 501 webpage.
SEASON SUBSCRIPTIONS
With the purchase of tickets to five or more MIAC Live performances, subscribers can save 10 percent on single ticket prices. Season subscriptions will be available beginning July 13. 
MORE INFORMATION
Single tickets go on sale Tuesday, Aug. 31, at noon, and can be purchased online, by phone at 814-824-3000, or at the box office in the Mary D'Angelo Performing Arts Center. The box office is open Tuesday through Thursday from noon to 5 p.m.

MARTIN SHORT
Thursday, Sept. 23 @ 7:30 p.m.
Mary D'Angelo Performing Arts Center
VANESSA WILLIAMS
Friday, Oct. 22 @ 7:30 p.m.
Mary D'Angelo Performing Arts Center
ANA GASTEYER: SUGAR & BOOZE
Tuesday, Nov. 30 @ 7:30 p.m.
Mary D'Angelo Performing Arts Center
LESLIE ODOM, JR.
Monday, Dec. 6 @ 7:30 p.m.
Mary D'Angelo Performing Arts Center
AN EVENING WITH BRANFORD MARSALIS
Tuesday, Feb. 1 @ 7:30 p.m.
Mary D'Angelo Performing Arts Center
SCOTT BRADLEE'S POSTMODERN JUKEBOX: THE GRAND REOPENING TOUR
Wednesday, March 16 @ 7:30 p.m.
Mary D'Angelo Performing Arts Center
THE TEN TENORS: LOVE IS IN THE AIR
Wednesday, March 30 @ 7:30 p.m.
Mary D'Angelo Performing Arts Center
DAVID SEDARIS
Tuesday, April 19 @ 7:30 p.m.
Mary D'Angelo Performing Arts Center
KELLI O'HARA
Thursday, May 5 @ 7:30 p.m.
Mary D'Angelo Performing Arts Center
25TH ANNIVERSARY GALA: PINK MARTINI, FEATURING CHINA FORBES
Saturday, June 4 @ 7 p.m.
Mary D'Angelo Performing Arts Center