Mercyhurst hosts community session on anti-human trafficking efforts
Wednesday, September 04, 2019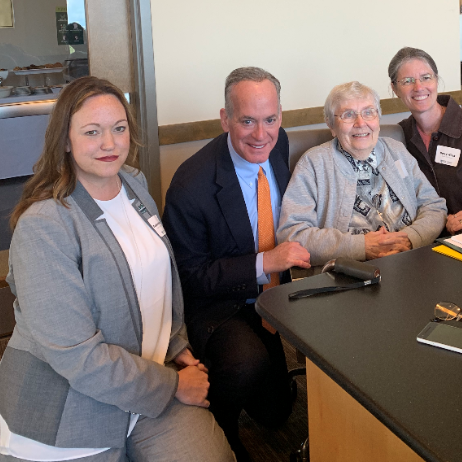 From the Civic Institute to disciplines in Intelligence Studies and Sociology, Mercyhurst University has addressed the global problem of human trafficking on multiple levels, driving awareness and advocacy. So, too, have many other local groups. On Thursday, Sept. 5, these groups will come together at Mercyhurst to form a new Anti-Human Trafficking Coalition.
The prospective coalition partners are looking to discover what each is doing individually and how they can work collectively to combat human trafficking, according to organizing partner Erie Dawn Executive Director Maureen Dunn.  Deb Davies, instructor of Intelligence Studies at Mercyhurst and a former strategist with the CIA, has agreed to serve as coalition coordinator and will lead Thursday's sessions in Room 300 of the Center for Academic Engagement from 9-11 a.m.
Human trafficking is estimated to bring in global profits of about $150 billion a year; of that, $99 billion is attributed to sexual exploitation, according to the International Labor Organization. Contrary to popular opinion, the United States is one of the most prolific offenders. Nearly 9,000 cases in the U.S. were reported to the National Human Trafficking Hotline and BeFree Textline in 2017—a 13% increase from the prior year, according to the Polaris Project. But this data is incomplete, as cases are severely underreported.
Besides members of the Mercyhurst community, representatives of the offices of Mayor, County Executive, State Attorney General, Erie County District Attorney, FBI, Crime Victim Center, Safenet, Erie Dawn, Department of Human Services, police departments, state government officials, and members of the media are among the expected attendees.
"Consistent with our Mercy mission, Mercyhurst University is eager to extend its resources whenever possible to help solve societal problems, in this case the scourge of human trafficking," said Mercyhurst Provost Leanne Roberts. "We are honored to host this organizational meeting and to partner with our colleagues at the national, state and local levels as we work together to eradicate human trafficking."
The agenda includes a welcome by Mercyhurst University President Michael T. Victor, remarks by Duncan McGill, dean of the Ridge College of Intelligence Studies and Applied Sciences, and presentations by Davies. She will discuss the human trafficking problem, categories and victim intersection, focus of community sectors represented in the coalition, availability of Mercyhurst resources and creation of a central data repository. 
"Human trafficking is a very complex problem, which is why the collaboration of all of our partners is so important," Davies said. "I know people in our community have done a lot of work in this area and I simply want to focus and coordinate that work to help eradicate human trafficking."
Davies said this will also be an opportunity for Mercyhurst students who are interested in working in the field of anti-human trafficking. The university currently houses an Anti-Human Trafficking Cell, which compiles data and contributes research on the pervasiveness of the problem. 
PHOTO:  From left are Deborah Davies, intelligence studies instructor and former CIA strategist, Mercyhurst President Michael Victor, Sister Mary Claire Kennedy, a former Romero Award recipient known for her advocacy on behalf of trafficked children and adults, and Betsy Wiest, social justice coordinator and St. Patrick's Haven site supervisor.